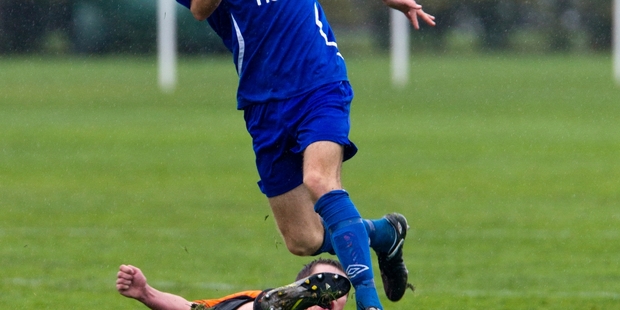 It can't be easy juggling commerce and science units week-in, week-out, then turning up at the park to hone one-touch passing and defensive skills.
Bluewater Napier City Rovers defender Bayley Chadderton is an affirmation that it isn't easy but the Victoria University student says he's better at it now midway into his first year.
"I guess it's not too bad because after a first few weeks you start adjusting to the work," the former Napier Boys' High School pupil says before the Bill Robertson-coached Rovers host Lower Hutt City at Bluewater Stadium in a 2pm kickoff tomorrow.
Sitting third on the Lotto Central League table, the Blues should come away with three points solely on the foundation of spirit and tenacity they have shown in their Chatham Cup (knockout) campaign in securing a quarterfinal berth.
They play giant killers Island Bay United, footing it one-tier below in the Capital Premiership League, at Wakefield Park, Wellington, on Sunday, July 27.
But player/coach Robertson hastens to add that, while the knockout cup is a filip, they have to switch to league mode against the youthful but talented Brendan McIntyre-coached Lower Hutt who lost 3-0 at home to the Rovers on April 19.
"It's important to shift our mindset to the bread-and-butter competition, that is the league," the centreback says.
Miramar Rangers are comfortably ahead on 27 points, five above Wellington Olympic, but they have two games in hand.
Rovers are sitting on 21 points, one below the Greeks.
"The gap is quite significant with Miramar," he says.
Midfielder Phil Dol is the only injury concern while Matt Hastings is still waiting to become a father so the arrival of the first bundle of joy will determine his availability.
Robertson says Chadderton is playing rightback but has filled in at centreback when he was not available due to injury.
The lanky 18-year-old comes across much older on the field and his skills, albeit in their infancy, work as an ideal camouflage to the opposition.
"It's my facial hair," Chadderton says with laugh when asked why he comes across more savvy.
The talented teenager adds because he has been around the Bay football parks for a long time people have also understandably come to assume he is much older.
"I guess the thing is people don't expect me to be the final package because I'm still young.
"The opposition expect me to be good but I've got a long way to go yet."
Chadderton has missed two games this winter because of uni exams.
However, having a mid-term break now means he's able to return to Park Island to be with the collective.
He started training with the Victoria University first team on campus but such breaks enable him to find traction at an elite level again.
"I'm back in Napier for two weeks so training here has helped me with my my confidence a lot."
The 5-1 drubbing away at the hands of table-topping Miramar Rangers in just round two of the league on April 12 had robbed him of confidence.
The teenager had, understandably, taken it personally in trying to come to terms with how the opposition had put the ball into the net five times.
"I played real bad that day. I think it was just the pace of the game and I wasn't ready for it."
Conversely, he will relish defending against a youthful Lower Hutt City who enjoy a quick-paced, passing footy that has caught many favoured opponents on the hop.
Unlike many youngsters who shy away when asked to defend, Chadderton embraced the role without prejudice.
"All the young players want to be Ronaldos and Messis because they score goals."
All Chadderton wants to do is wipe the smirk off the faces of strikers and midfelders who think they can bamboozle Beefeaters with their pace and dexterity.
"You have a more complete game as a defender because you can still join the attack.
"People say scoring goals wins games but I say not conceding goals is just as important," says the future of Rovers' unflappable shutter brigade.