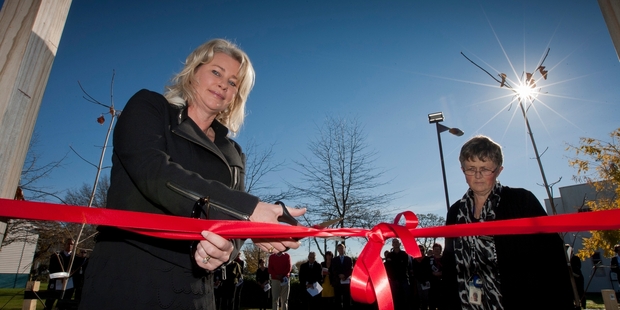 A memorial garden opened by Sir Paul Holmes' widow Lady Deborah has been vandalised less than a month after the ceremony.
Hawke's Bay Hospital Soldiers' Memorial Garden gardener Bruce Allport said there had been two attacks on the garden over the past week.
The attacks followed the theft of several plants prior to the garden's opening by Lady Deborah Holmes on June 6.
"On Sunday night we had a whole hedge ripped out, as well as ornamental shrubs and flowering plants. One tree was smashed to smithereens," said Mr Allport.
"Then on Wednesday morning I discovered some of the ornamental shrubs had been pulled out again.
"I think the hedge could be lost, and some of the replanted shrubs and plants - I don't know if they'll come away again."
Hospital security manager Robert Thorpe said there was a "zero tolerance" attitude towards vandalism on the grounds, and if the perpetrators were caught in the act they would be handed over to police.
"Kids hanging around the hospital are a problem and we escorted a group out the main front doors on Tuesday night.
"Some cars were later damaged, as well as the garden. Perhaps it was revenge. We know police later arrested a group on other matters."
One of the driving forces behind the garden, co-ordinating hospital chaplain Barbara Walker, said it was hugely disappointing that an area designed as a place of reflection for patients and their families could be targeted.
"Mindless vandalism or theft is disappointing, but this is an important space for the use of people under great stress," Reverend Walker said. "Not only that, the garden is funded through donations, out of the goodness of people's hearts."