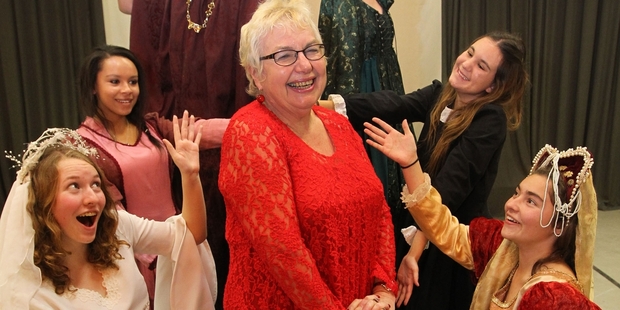 Mairi Fitzsimons' retirement from Havelock North High School will mark the beginning of her foray into an entirely different field.
"I've got miles of plans," the deputy principal told Hawke's Bay Today.
"I've been dabbling in a bit of floristry ... I want to learn to be a proficient florist."
The Maraekakaho local has been learning the trade from Flowers By Tanya owner Tanya Coens, whom she once taught English at Hastings Girls' High School. But her main area of expertise will remain education.
Having taught around the country, and further afield, during her 45-year career, Ms Fitzsimons' broad experience has informed strong ideas on the subject.
Born and raised in the Bay, she applied to work with Volunteer Service Abroad after graduating from University of Canterbury.
"I didn't know where they would send me."
The result was two years of uninterrupted teaching in Nuku'alofa, where the attitudes of her students left a lasting impression.
"It was an experience which has shaped the way I've seen education since.
"Teachers and schools have an enormous responsibility to make sure they're giving every student the best possible opportunity to succeed.
"The better the education we can deliver, the better the society we're going to have."
She will be sorely missed by Havelock North High School, where she has worked for 25 years. Students and parents will remember the many successful school productions she assisted or directed; including The Pirates of Penzance, Joseph and the Amazing Technicolor Dreamcoat and The Sound of Music. Her favourite production was Les Miserables, which she has overseen twice.
"I absolutely adore the music in that show," she said.
When she returned from her Tongan sojourn, she married an Irish bookbinder named Brian.
Mrs Fitzsimons has no shortage of extra curricular activities; she and her husband are well-known in the region's bridge circles. They have played bridge for more than 30 years and belong to the Hastings and Havelock North bridge clubs.
It was Mrs Fitzsimons' own influence that caused the couple to settle in the region.
"I'm a Hawke's Bay girl."
However, her double-barrelled Christian name, Mairi Flora, is of Scottish-Gaelic origin, and her ancestral home is Tiree, a tiny island off the Scottish coast.