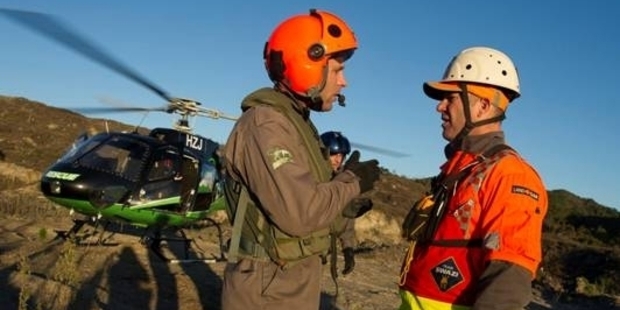 A man with a heart condition who spent three freezing nights stuck on a waterfall ledge south of Taupo was near death when rescuers found him, his sister says.
Benjamin Severne of Hallets Bay had slipped down a waterfall while out cutting a track on what was meant to be a half-day trek in to the Lake Taupo forest on Wednesday.
His sister, Charlotte Severne, said the 48-year-old prison officer was near death when one of his friends found him in a hypothermic state more than three days later on Saturday afternoon.
"When the guys found him on the ledge Ben thought he was having a heart attack but the paramedics said he wasn't having a heart attack - he was dying," she said.
"He would have been gone in a few more hours, he wouldn't have survived another night and he would have shut down."
The father of one, who was found about 1.3km from his father's home, about 20km south of Taupo, had gone into the Lake Taupo forest to cut a track for his horse.
His partner dropped him off at Te Oranga Rd about 10am on Wednesday but called police when she returned home later that night and he wasn't there.
Mr Severne had slipped down a waterfall on the Waitotara Stream, knocking himself out and losing his GPS, torch and balaclava during the fall.
While not seriously injured, he was stuck on a ledge that was inescapable on either side or above and with a 50-metre drop below.
Dressed only in trousers and a thin shirt, he readied himself for a long night while his dog, Whai, a German short-haired pointer, howled from above.
Ms Severne said her brother told Whai to go and get help but she wouldn't leave him and instead jumped from above into his arms.
He tried to sleep during the day and stayed awake at night on the ledge, which she said was no bigger than a family car.
By Friday dozens of whanau, including some who flew back from Australia, a search and rescue team and friends within the local hunting community had rallied to look for her brother.
But while Mr Severne could see a plane and helicopter in the air he couldn't hear the yells of those looking for him as the noise from the waterfall made hearing anything almost impossible.
With no food and surviving only on water from the stream, Mr Severne, who is also on heart medication, lasted three long nights but his sister said by Saturday morning he was almost certain he couldn't go on.
"He was cold the whole time, but on Saturday morning he couldn't stop shaking. He tried to keep warm but he realised by then he couldn't have done another night. It was freezing and he wouldn't have made it."
Mr Severne and his dog were winched to safety by Land Search and Rescue.
He spent Saturday night in Taupo Hospital recovering from hypothermia with his daughter, and returned home today.
"I fell down and got knocked out by a rock on the descent, and the only thing that saved me was a log on the bottom," he said.
In a unique turn of events, Mr Severne was found by a friend who had been rescued by Mr Severne 15 years ago.
"By Saturday ... I didn't expect to find him alive," Brett Cooper said.
Luckily, he did find him safe and with only minor injuries. He was described as hungry, tired and hypothermic.
"I owed him a rescue because he rescued me about 15 years ago when I'd gone on a bit of bush run and I missed the helicopter pick up."
Mr Severne's safe rescue was put down to staying where he was and keeping himself warm, and he said he had learned not to trust television survival shows.
"Well I was actually trying to do a Bear Grylls technique. Bear Grylls says this - it doesn't work bro."