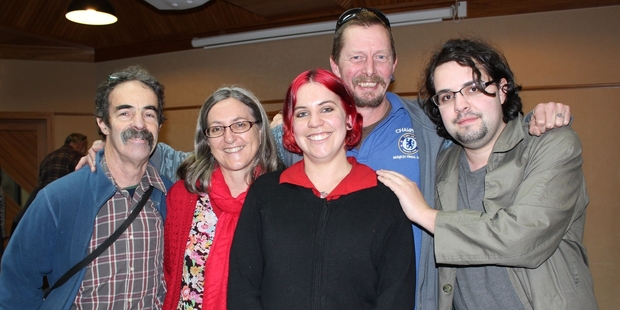 Immigration figures show a big turnaround in the number of people migrating to the Tararua.
Alastair Scott, the National Party candidate for the Wairarapa electorate also told the Dannevirke News he's had anecdotal evidence from local real estate agents about the number of people moving into our district.
"The Australian economy is having a big effect on people who are making the decision to return home," he said.
International migration statistics up until April confirm this, with the net gain for the Tararua from overseas 25, with three from Australia.
And while these figures aren't huge, when compared with a loss of 126 in the 12 months up to April last year, this is a 151-person turnround in population impact in just one year, Lianne Simpkin, Tararua District Council economic development and communications manager, said.
"This is 60 households and is the best result since 1996 for international migration and the best result from Australian migration since 1991."
The majority of those leaving the Tararua over the years have been in the 20 to 24 age group. And it's those in the 25 to 64 age group who are the "turnaround" people making the Tararua their home.
Peter Wimsett, Tararua District Council's strategy and district development manager, said the turnaround has been quick.
"Statistics showed we were minus one person up until March, but now the number of people settling here has suddenly leapt up. This is good news for the Tararua."
Mr Wimsett said people in the middle age group had left the Tararua chasing work at a time when Australia was attractive, especially following the closure of the freezing works at Oringi in 2008.
And it's jobs which will make the difference in continuing to attract people to the Tararua.
"New Zealanders are leaving Auckland, but there's a big flood of immigrants from overseas making for a big swap in that city, but frustratingly for rural areas, where we have the capacity to take more people, much of this migration seems to stop at Auckland," Mr Wimsett said. "We need jobs to lure people here and that's why Fonterra's new milk powder plant at Pahiatua is crucial."
And it's dairying which is also providing jobs for migrants from the Philippines, Tom Castles a Dannevirke JP said.
"We'd be up the creek without them.
"I also have a lot of these workers come to me [with documentation] to bring their parents over for holidays and for sponsorship as new citizens."
Richard Fenning of Pahiatua was one of seven people from the Tararua who were granted citizenship on Tuesday.
"I came here from Kent in 2002 on holiday, realised this was a good country, better than England and stayed," he said. "The Tararua has more than lived up to my expectations."
Six years ago Lorraine and Benjamin Howard left Zimbabwe to join their daughter Susan in Dannevirke.
"We had no more family in Zimbabwe and it was getting difficult to live there," Mrs Howard said. "Living here has been very much what we hoped for."
But to encourage more people we need new businesses and the jobs they bring. Tararua District Council is hoping to ease the way for prospective business owners and Mrs Simpkin said three new possible business owners have indicated they are considering setting up in the district.
"Louise Charlton our business administrator offers a completely confidential service which connects new and existing businesses to support and links which enable and facilitate growth," she said. "We have been very excited about those considering new businesses contacting council. Offering a central point of contact for building, planning, environmental health and marketing advice helps."
Mrs Simpkin said the prospective new businesses include retail outlets in Norsewood and Dannevirke and the other, an operator planning to use Scanpower's Oringi Industrial Park.
Dannevirke real estate agent Craig Boyden has one message for council.
"Bring it on as fast as you can," he said.