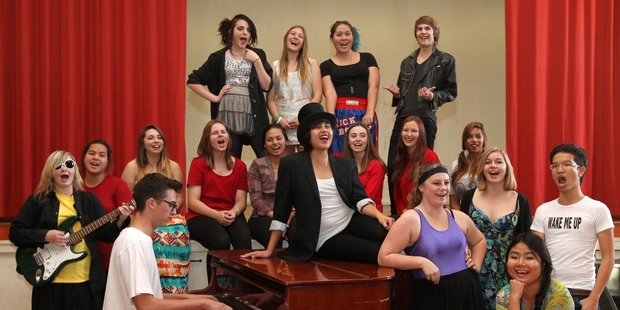 More than 40 keen teen performers are taking part in William Colenso College's dance and music extravaganza, Boogie Nights, next week.
The heads of the performing arts and music departments, Leah Kersey and Katrina McNicoll, have joined forces to produce the original show, with school musicians performing popular and well-known numbers, and others dancing, to showcase the best of what the dance and music world had to offer between the 60s and the 80s.
They have tried to get as many performing arts students, and others involved, as being part of a live stage show gives them a better understanding of how each part of a production fits together, says Kersey.
Besides highlighting the talents of these Year 10 to 13 students, it is also a family friendly show.
As a bonus for those students studying dance, music and drama, some of their feats will count towards NCEA performance standards.
Kersey has noticed a positive change in attitude towards the performing arts in the eight years she has been teaching at the school. "Kids can see there are more tertiary avenues for students who want to carry on (with performing arts) but there are other kids who may not have been that interested to start with that find themselves wanting to give it a go."
Performing, whether it be dance, drama or music, is also good for them in other ways, she says.
"It's really good for building self-esteem and confidence and they tend to feel they can do a lot more. It's not just about performing; it builds on their own successes as a person."
Boogie Nights, 6.30pm, July 2-4, William Colenso College hall, Napier. Students $5, adults $10, families $25. Tickets available from the school office.