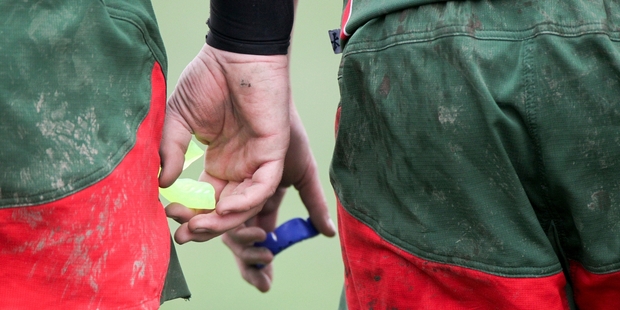 A referee's decision to rule out a try in a Hawke's Bay First XV rugby match because the scorer wasn't wearing a mouthguard has the full support of his school.
The decision involved a Te Aute College halfback after he crossed the line in the second half of his team's match against Havelock North in the Unison Challenge Shield competition on June 14.
It had little impact on the game, which Te Aute College won with an official scoreline of 55-5, although it was reputedly an even bigger score.
Te Aute deputy principal and head of sport Robin Fabish, who was not at the game, said he had been told the player had a mouthguard which he placed in the top of his sock at halftime, and forgot to put it back in his mouth before scoring his try.
The school supports the New Zealand Rugby Union ruling that "the wearing of a mouthguard in an approved manner is compulsory for all players at all levels of New Zealand domestic rugby" and having run out of its supply of Unison-sponsored guards has just ordered more.
Mouthguard requirements were introduced to age-group rugby in New Zealand in 1997, and in all grades from the start of the following season. Enforcement has increased over the years, and education programmes put in place to ensure they are used.
"We are forever emphasising that mouthguards must be worn," Mr Fabish said.
"We certainly support the rules. It's about the players' safety."
Hawke's Bay rugby referee education officer Keith Groube, who had not been aware of the incident, also emphasised "it is a safety issue" and said there were "no exceptions".
If the referee had seen the player in question was not wearing a guard he had the rules on his side to send him from the field of play.
Mr Groube would not comment on whether the try should have been disallowed, saying individual referees would have their own opinions on what action to take.
Havelock North High School principal Greg Fenton said he supported the referee's call.
"The referee is the sole arbiter of the rules and I respect the referee's decision."
Mr Fenton said he had four false front teeth, because of not wearing a mouthguard in his club rugby days.
"Unfortunately I played rugby at a time mouthguards weren't compulsory and I paid the price."
Magpies doctor Ian Taylor said mouthguards were compulsory for a reason.
"I've had an entire first-grade game called off because not enough guys had them."
Several high-profile players have been spotted in the past not wearing a mouth guard - including Israel Dagg, Ben Franks and Julian Savea.
During an NPC match last season referee Nick Bryant sent Wellington players Tomasi Palu and Ardie Savea from the field to get mouth guards.
He was following a rule which declares "a player observed by the referee to be not wearing a mouthguard shall leave the field and not be permitted to return until such time as the player is wearing a mouthguard in the approved manner".