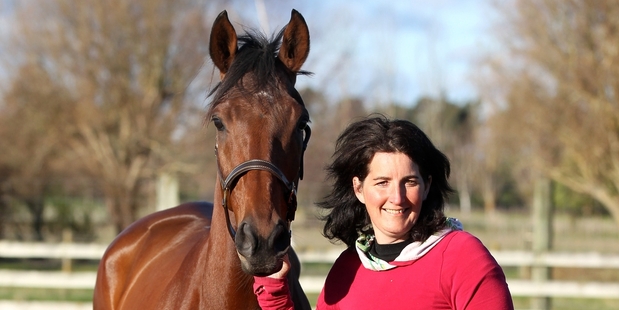 As absurd as it may sound, in many respects Intransigent is only human.
Like people, the four-legged stayer is prone to making minor mistakes, occasionally suffers from small-man's syndrome and isn't shy to put a hoof into boredom.
But the 7-year-old gelding's trainer, Kirsty Lawrence, of Waipukurau, isn't about to overreact anytime soon because of his temperamental behaviour.
"If the right Intransigent turns up he'll be very hard to beat on Saturday," Lawrence says of the $70,000 Windsor Park Hawke's Bay Gold Cup winner who will line up at Gate Pa, Tauranga, in the Kiwfruit Cup.
Intransigent will be defending his crown in the 2100m, $40,000 race that is an undercard to the weight-for-age Tauranga Classic for fillies and mares. The cup starts at 2.31pm.
Lawrence says he won "very comfortably" last year with David Walsh in the saddle on a heavy 10 rating.
"He cut through the inside with the rest of them on the outside and won by almost 3 lengths."
Five weeks later the son of Pentire mare Risible and Refuse To Bend won the $80,000 Taumarunui Gold Cup on a slow eight at Te Rapa over the same distance.
He finished second in the Parliamentary Handicap at Trentham between the two cups.
This year the Taumarunui Cup will be held a fortnight after the Kiwifruit Cup and the Parliamentary Handicap will follow.
Much to Lawrence's dismay, the listed Taumarunui Cup's prizemoney has shrunk to $65,000.
"That is just rubbish. I don't know too many [trainers] who would be pleased about it."
She suspects the New Zealand Thoroughbred Racing (NZTR) has lowered the stake to realign it more with the summer schedule.
"It's a shame the winter stayers miss out on black-type races," she laments of a classification given to horses who win group 3 races such as the Bay and Taumarunui Gold Cups.
With the "black-type" label owners and breeders are able to market subsequent progeny more lucratively.
An out-and-out wet tracker, Intransigent hasn't done much to write home about since the Bay Cup win in April when Robert Hannam rode him.
"His biggest problem is his weight in handicaps ... he's very small so it's hard to carry weight," Lawrence explains, adding New Plymouth trainer trainer Allan Sharrock's 3kg-claiming apprentice, Kei Chiong, will be in the saddle on Saturday.
"He's had average runs, performing when he wants to so the punters are just tearing their hair out," she says with a laugh.
Intransigent has a tendency to do well when the bookmakers are more generous with the odds on offer.
He went in as "red-hot favourite" in Awapuni (Palmerston North) last Saturday but finished sixth - the $3.20 odds were too short.
"You're always hopeful because he's Intransigent by name and intransigent by nature."
Compounding his problems was the decision not to add sand to the Awapuni track.
"I think they ran out of money building a new multi-purpose facility there with grandstands and all that so it was a cost-cutting measure," she explains, stressing Intransigent loves the "sand-splitting" surface.
Lawrence is all for plans for Hawke's Bay Racing to move to the Hawke's Bay Showgrounds from the existing racecourse in Hastings.
"With the availability of all the technology and equipment they have these days it has to be a plus," she says.
"When was the last time they built a new racecourse?
"It was almost 16 years ago, if not longer."
Invariably the John Clapham (Pukekohe)-bred gelding does "little things wrong to make life bloody hard".
Second guessing horses isn't in Lawrence's repertoire, considering she adopts the mantra of "knowing when to back your horses" in her boutique 11-horse stable that allows her to have a one-on-one rapport with her charges.
Consequently she's as confident as she was last year the "right" Intransigent will turn up at Tauranga.
The Bay Gold Cup win earned Intransigent an automatic entry to the group I Hawke's Bay Spring Racing Carnival on October 2 but she has ruled it racing him there.
For now, Lawrence is putting Intransigent through jumping school, with jockey Harley Cushing, in the hope of getting the gelding a hurdling ticket.
"It's difficult for him so we have to change his routine so we can get him thinking differently.
"He gets bored sometimes, just like we do, doing the same things day in, day out."
Intransigent's 2-year-old sister, Portent, by stallion Thewayouare is scheduled to appear this spring.
Lawrence is leasing the filly from Clapham.
Intransigent's unnamed half-brother, by Sir Percy, has been sold to Matamata trainer Paul Moroney for $87,500.
Lawrence and husband Steve are major shareholders of Intransigent.
Brendon and Barbara Ray, of the Bay, Barry Sizer, of Waipukurau, and Brian and Annette Hawkins are other co-owners of a horse who has claimed nine wins and pocketed more than $265,000.