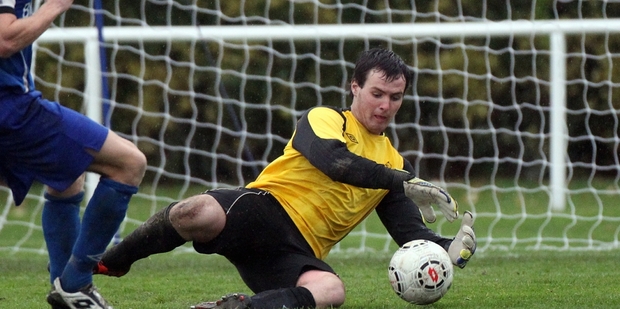 The world's biggest stage for team sport in Brazil is now the ideal lecture theatre for Jonty Underhill.
The parries, the legitimate dives, the barking of orders, establishing defensive walls against freekicks and snaffling potentially goal-scoring crosses are some of the things the teenage soccer goalkeeper is mentally taking notes of, even when he's working in the metal industry at Stortford Lodge, Hastings.
"There's been a lot of drama in the World Cup," says Underhill who's lapped up the sublimity and dexterity of Mexico gloveman Guillermo Ochoa and noted the mediocrity of Igor Akinfeev, of Russia, and Stipe Pelitkosa, of Croatia.
"My employers have been very good. We keep on working but there's a One Network News website in the background," says the 19-year-old, second-year Lattey Civil & Precasts apprentice.
But when the Bluewater Napier City Rovers play Upper Hutt City in Wellington today, Underhill will be a bundle of energy and concentration between the sticks.
The Bill Robertson-coached Rovers, sitting in third place a point behind Wellington Olympic and four behind leaders Miramar Rangers, will kick off from 1.30pm at the "tupperware" Maidstone Park against the last-placed team in the Lotto Central League.
They are coming off another high with a 5-4 penalty-kick win over Palmerston North Marist in Napier last Sunday to make it to the fourth round of the Chatham Cup (national knockout) against Tawa next weekend.
The Blues are undefeated at home this winter but haven't travelled well in the league.
However, logic suggests they should be clinical in beating Upper Hutt today.
Robertson hastens to add the hosts have put Wairarapa United out of the cup and drew a game recently.
"We're looking at getting three points but we won't get complacent about it at the same time."
While their preparation has been far from ideal, the centreback says the Rovers are becoming accustomed to travelling to the capital city.
The visitors will be without midfielders Chris Greatholder (work), Matt Hastings (on the cusp of becoming a father), Stu Wilson (sick) and English import Ryan Tinsley (serving a red card suspension from last weekend).
Serb import Andrija Ilic and Daniel Ball come into the equation but the depth on the bench suggests they'll be lucky to run on.
Underhill echoes the sentiments of Robertson, mindful Upper Hutt put four goals past high-fliers Miramar in the cup.
"We're expected to win but like any other game we have to go with the intention of winning.
"They are facing relegation so they'll have extra motivation to win."
Underhill realises the high-scoring affairs the Rovers have had, especially in the cup, make great spectacles but stresses goalkeepers and defenders don't share similar emotions.
The Danny Wilson-captained Rovers need to sharpen their defence, especially with corners and free kicks when, against all odds, an opposition attacker rises above to nod a ball while the back line become spectators.
Playing an attacking brand of the game in "modernised football" is a given, he says, considering the Rovers are engaging in a high-press formation that Miramar, Western Suburbs and the Greeks embrace as well.
Underhill accepts goalkeepers have to make the 18m box their prime real estate, so much so that they dictate terms to the Beefeaters, captain or not.
While it has been awkward trying to bark instructions at experienced players such as Robertson, Wilson and Greatholder, he is coming to grips with the task.
"Right from the time I was young [Wellington Phoenix assistant coach] Jonny Gould always told me goalkeepers tell people where to go so it's never been a confidence issue for me."
Napier's Gould, a former Scottish international and EPL gloveman, is an assistant coach with the Wellington Phoenix in the A-League.
Underhill has no doubts he has grown in his position with experience.
Today, he will enjoy the "true bounce" of the ball on an artificial surface.
"We're not used to playing in mud baths so an artificial pitch will help our plan."
Upper Hutt won promotion to Central League from the Capital Premiership in 2012 after Central qualifiers Wanganui Athletic chose not to go up because they weren't "financial".
Hutt coach/player Pedro Garcias, of Chile, says the hosts are desperate for points but are aware the Rovers have been performing for the past few weeks.
"We have eight games to go in a short season so we're beginning to panic just a little bit because we'll need around 10 to 15 points [if we're to avoid relegation]," he says.
MATCH FACTS
WHO: Upper Hutt City v Bluewater Napier City Rovers.
WHEN: Today, 1.30pm kick off.
WHERE: Maidstone Park, Wellington.
REFEREE: Peter Linney.
AR1/AR2: Mark Whitehead/Kyosuke Okada.
UPPER HUTT CITY: Chris Campbell (GK, c), 2 Jake Harris, 3 Richard Henderson, 4 Liam Wood, 5 Hamish McLachlan, 7 Phil Patterson, 8 Liam Higgins, 9 Jonathan Boyack, 10 Luis Corrales, 11 Steve Coleman, 13 Joshua Finch, 14 Luke Grindley, 15 Adam Brown, 17 Stephen Thomas, 18 Pedro Garcias, Sam Martin (RGK ).
Coach/player: Pedro Garcias.
NAPIER CITY ROVERS: 1 Jonty Underhill (GK), 2 Josh Anstis, 3 Daniel Ball, 5 Bill Robertson, 6 Miles John, 9 Sam Messam, 10 Andrija Ilic, 11 Andy Bevin, 12 Oli Chapman, 14 Josh Stevenson, 16 Danny Wilson (captain), 18 Angus Kilkolly, 19 Phil Dol, Kyle Baxter (RGK).
Coach/player: Bill Robertson.
Manager: Malcolm Wilson.