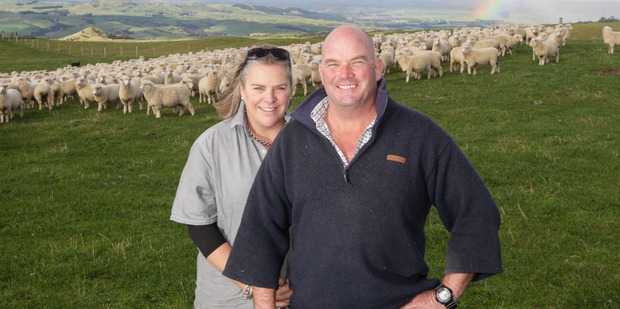 Two Hawke's Bay farming couples have been celebrating triumphs in the national ewe hogget competition after the presentations in Queenstown.
Bart and Nuku Hadfield, who farm Mangaroa, near Wairoa, won the Large Flock Award, while Craig and Trish Sinclair, of Kohurau, off remote Glenross Rd, west of Napier and Hastings, won the Romney breed section.
Perhaps better known as a record-breaking open-class shearer, Mr Hadfield was overseas at the time of the May 30 ceremony and deputised son Atawhai to join Nuku in the spotlight, while the Sinclairs both made the sponsored trip south.
Mr Hadfield, who was in Ireland to watch and help at the world shearing championships and then in England for the wedding of Hawke's Bay shearer Matthew Smith, has been at Mangaroa for 13 years, the family owning the property for the past seven.
Running 2000 hoggets, they first entered the competition three years ago, and said: "We just decided we'd do it to benchmark ourselves, really."
But it's been a handy learning experience, and making the most of feedback from the judges, they have achieved significant hogget weight increases, from 37kg to 45kg, at the time of going to the ram, in this case Romney.
A whirlwind tour by the judges in the North and South islands meant they were able to spend as little as an hour at the properties of finalists, but Craig Sinclair reckons he might have got two-three hours "out of them".
"You learn a lot about your business, I can tell you that," he said at the remote farm where they winter about 2600 ewes, and farm about 1100 hoggets and 280 in-calf cows on the property bordering DoC country.
"Plenty of bush, pigs and deer," said Mr Sinclair, who grew up in Marton, establishing his agricultural roots cycling to a friend's family farm in the countryside.
Overall winners of the competition were Simon and Kirstin Engelbrecht, of Palmerston, North Otago.