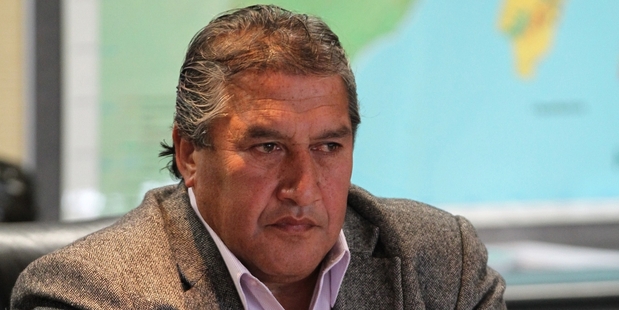 A Ngati Kahungunu leader has labelled the Ruataniwha water storage scheme a "dangerous investment", saying the iwi will fight plans to include shares in the project as part of an upcoming treaty settlement.
Ngati Kahungunu Iwi Incorporated chairman Ngahiwi Tomoana made the comments yesterday during submissions to Hawke's Bay Regional Council on the council's proposal to invest up to $80 million in the Central Hawke's Bay irrigation scheme.
"We think there are much more worthy projects the money could be spent on," he told councillors.
"The economics are extremely dangerous."
He said that view had been reinforced though his organisation's relationship with South Island iwi Ngai Tahu, which had been in talks with the council's commercial arm, Hawke's Bay Regional Investment Company (HBRIC), over a possible stake in the project, but pulled out last month.
"Against their own investment benchmarks they see this as a dangerous investment proposition," Mr Tomoana said.
Studies have concluded the irrigation project would boost the regional economy by more than $200 million a year.
HBRIC chief executive Andrew Newman has previously said Ngai Tahu's decision to withdraw from the project was related to the loss of another corporate investor with experience in large projects, Trustpower.
Mr Newman has said Ngai Tahu could even come back on board once another suitable co-investor signs up and he remains confident funding for the project will be found if workable resource consents are granted.
The Ruataniwha project would create more than 2000 jobs but Mr Tomoana said those jobs "will be eclipsed over a very short space of time" after construction and would be filled by migrant workers, with wages going straight out of the Hawke's Bay economy.
He said comments earlier this year by Central Hawke's Bay Mayor Peter Butler suggested Maori would be discriminated against when filling Ruataniwha jobs.
"We believe that attitude is pervasive amongst the community that is promoting this dam."
While there had been "an overture" from the Government that up to $20 million from a $100 million treaty settlement currently being finalised with regional iwi should be invested in the dam "Ngati Kahungunu vigorously opposes any investment from those settlement funds going into Ruataniwha".
Mr Tomoana also attacked the council over recent spats between councillors which last week led staff to complain about the organisation's public image and the criticisms levelled at them by councillors.
The council "should have the highest standards of governance and this seems to have been wanting over the past few months", and "seemed to be "falling apart at the seams", Mr Tomoana said.
"We believe this is a council under siege, a council under stress, and it needs support."
Councillor Rex Graham told Mr Tomoana: "I can assure you we are not falling apart at the seams."
Asked after the hearing why he opposed treaty settlement funds being invested in the project, Mr Tomoana said: "It reminds us of the old days, where the shopkeepers allowed Maori to book up and when things went bad they took their land. We lost all our land through ticking up to the shopkeepers, innkeepers and rural supply people. This is a new version of the old shopkeeper deal."
The council will conclude hearing submissions today and is scheduled to vote on whether to invest in the irrigation scheme next week.