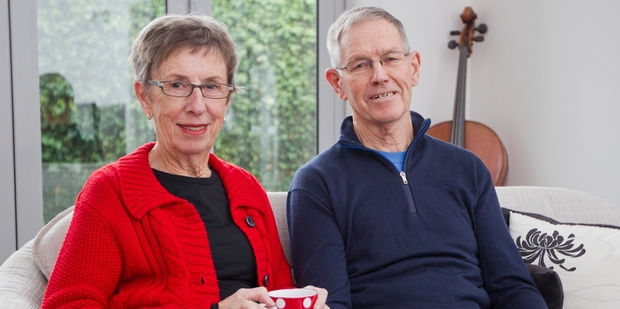 He does everything bar run on to the field for the All Blacks and it'll be 12 years for Darren Shand at the 2015 Rugby World Cup.
Consequently, it doesn't come as a surprise to anyone that Hawke's Bay-born Shand has been named in the Queen's Honour's List to receive the Officer of the New Zealand Order of Merit (ONZM) later this year at an official Government House ceremony, either in Wellington or Auckland.
"I said to him, 'You have pipped your mum'," says Ngaire Shand, of Hastings, of her son who has been the All Blacks team manager since 2004.
"His job is manager but it's better described as CEO," chimes in father Jim Shand, adding their 48-year-old son reports directly to New Zealand Rugby Union (NZRU) chief executive Steve Tew and its board.
"The only time Darren doesn't have a part is with on-field play," says the 78-year-old from their Parkvale property where Darren Shand and daughter Maria Clarke grew up.
Ngaire, 75, also a retired schoolteacher, started the rich tradition for the Shand family when she received the Merit of New Zealand Order of Merit in 2007 for services to music, education and netball.
"I got it at the same time Jonah Lomu got his award in Wellington."
She established the Hastings Netball Junior Council in 1976 and started teaching at Heretaunga Intermediate when it first opened its doors to children in 1960.
The Auckland-born, Wellington-raised former Hastings High School Old Girls netballer, who also played basketball, started as a general teacher but specialised in music with the principal's blessing.
"That's [Heretaunga Intermediate] where we met each other and eventually got married," she says with a grin, although Jim, of Linton, started at Pukehoumoamoa School and went on to teach at Heretaunga Intermediate before moving to Tamatea and Napier Intermediate, where he was deputy principal.
But the affable couple hasten to add they have no intention of stealing the limelight from their son. They fondly recall how when Darren Shand was first appointed All Black manager, people, even in the Bay, wondered who this bolter was.
This was the man in his thirties who dared to take on former AB skipper Andy Dalton and AB Andy Hayden and got the nod.
"I remember people saying, 'Who's Darren Shand?'," she reveals.
The former Parkvale Kindy and Parkvale School pupil was like many youngsters, his bedroom walls plastered with Kiwi sporting legends. "His Christmas presents were things like sports annuals and cricket and rugby gear," says Ngaire of the former Heretaunga Intermediate schoolboy.
The former Hastings Ross Shield rugby player and Hatch Cup hockey representative pulled the plug on the country's No 1 sport as a fourth former at St John's College in Hastings while trying to keep up with the demands of studying.
He thrived in hockey, representing the Bay senior men in his final two years at high school.
"He was very good. He played for the New Zealand under-21 men," Jim says of the then teenager who was captain of the first XI cricket team which also had former All Blacks brothers Matt and Greg Cooper.
"Darren and Greg were very good friends," he says, adding Hawke's Bay Rugby Football Union CEO Mike Bishop and NZRU executive representative Neil Sorensen were also his school mates at the time.
Father Taylor and Father Brebam, former Plunket Shield representatives, were Shand's first XI coaches.
Says Ngaire: "Darren was very lucky in coaching all the way."
Shand played hockey at Otago University but gave it up after a failed experiment and to focus on studies.
"He was a dribbler/passer but the coach tried to change him into a hitter," explains Jim, adding his son wasn't even a good striker of the cricket ball.
He cultured other interests while pursuing a degree in physical education.
On graduating, he gravitated towards "his beloved playground, Queenstown".
A rafting course beckoned and he went on to score a job as an instructor with AJ Hackett Bungy, the tourism pioneers.
He toyed with the idea of returning to university to pursue a degree in business management but the company convinced him to stay on in its sales/marketing position.
In his early 30s, a Canterbury Rugby Union advertisement seeking a sponsorship manager caught his eye.
"He actually hated asking people for money," says Ngaire of Shand who got his break as team manager in the Robbie Deans era when there was a reshuffle.
He was Canterbury NPC team manager from 1999-2003 and four years with the Crusaders when the franchise made every Super Rugby final before winning the crown twice.
"Robbie was moving up to the Crusaders and he insisted on taking Darren up with him."
Shand managed New Zealand A during their tour of France, Wales and Romania in 2000.
No doubt the Canterbury rugby boys considered him one of the lads.
The AB manager left an indelible impression one day when he led the Canterbury union's management team to victory over the players in a rafting drill that required tipping the vessel over.
"They didn't know he had rafting experience," she says with a grin.
Shand lives in Christchurch with wife Jan and their two daughters, Sorell, 8, and Nevaeh, 7.
Sister Maria, a specialist in sports law, lives in Auckland with husband Andrew, a Westlake Boys' High teacher, and their two sons, Will, 13, and Max, 10.
She also is a member of the New Zealand Olympic Committee and also the subcommittee of the International Olympic Committee.
Ngaire recalls the commotion last October in the vital AB v Springboks Rugby Championship match when Shand made an error in the team sheet, spotted a shade after 60 minutes had elapsed.
"He was gutted. I admired him for walking off the field and admitting it was his fault," she says, emphasising Shand was meticulous in attending to details, crossing his 'Ts" and dotting his "Is".
It's an attribute he has inherited from his father.
The parents delight in watching two-to-three All Black test matches every year, including attending the one against England in Auckland last Saturday.
They followed the Lions tour here in 2005 and went to the Rugby World Cup final against France in Auckland in 2011.
"I actually held the World Cup at two in the morning in the team hotel," says a beaming Ngaire with a sparkle in her eyes.
"I just happened to be standing next to [All Black captain] Richie McCaw and he said, 'Do you want to hold it?'
"I just couldn't get it off him fast enough."
They are familiar with NZRU president Ian MacRae, of the Bay.
In paying tribute to Shand, Tew reportedly said: "We're delighted for Shandy and his family.
"Shandy has been an incredibly successful and quiet achiever over a long period of time and he deserves this award," the CEO says, lauding his drive to ensure the ABs engage with the community and fans.
In Shand's time, the ABs have won the 2011 World Cup, the Tri-Nations five times as well as the inaugural Rugby Championship in 2012-13.
Factor in two grand slams against the home nations (2005 and 2008) and bragging rights as IRB Team of the Year (2005-06, 2008, 2011-13) and it becomes difficult to see why NZRU won't renew his contract next year.
Under his stint with coach Sir Graham Henry and incumbent Steve Hansen, Shand has helped usher in close to 100 All Blacks on debut.
Peter Leitch, aka The Mad Butcher, was among those who paid tribute to Shand.
"I can tell you he [Shand] is a top bloke - one of the best.
"I was not surprised when he was so modest about it because he is a very humble sort of bloke," says Leitch in his business newsletter.
Taking into consideration their son's hectic schedule, the Shands hope to attend his award ceremony in a couple of months.