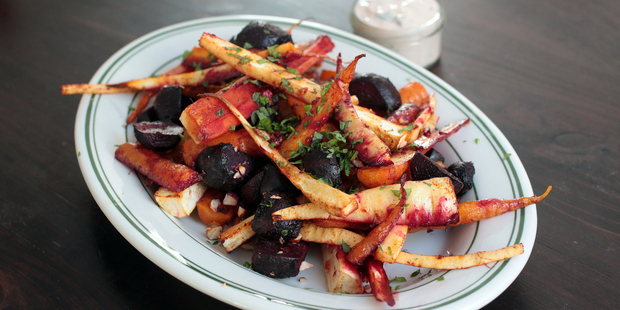 A visit to the markets at this time of year sees stalls piled with root vegetables including carrots, parsnips, celeriac, kumara, kohlrabi and Jerusalem artichokes, hardier greens such as kale, spinach, cabbage and brussels sprouts and, of course, pumpkins.
Gone are the heat-loving vegetables - tomatoes, capsicums and eggplant - and if they are available they are expensive, so it's now that we should be embracing these cool-weather vegetables which are perfect teamed with casseroles, stews and roasts.
The easiest way to coat the vegetables with the oil is to place both in a plastic bag and shake - if you are using any seasonings add these as well.
Ingredients:
2 large potatoes (about 200g each) cut into chucks
2 medium (about 150g each) carrots, cut lengthwise into wedges
2 medium parsnips (about 150g each), cut lengthwise into wedges
1 large (about 500g) celeriac, cut into chunks
1 large red onion, cut into wedges
2 tbsp vegetable or olive oil
sea salt
1 tbsp clear honey
lots of freshly ground black pepper
cup chopped flat-leaf parsley
Method:
1) Preheat oven to 220C.
2) Toss the vegetables in oil to coat. Season with salt. Place in a roasting dish and cook, turning several times, for 50-60 minutes or until vegetables are golden and tender.
3) Drizzle with honey and grind over lots of black pepper.
Return to oven and cook for 5 minutes longer or until honey melts. Toss to coat vegetables with honey. Add parsley and toss again.
Serves 4 - but can easily be adapted to serve as many as required