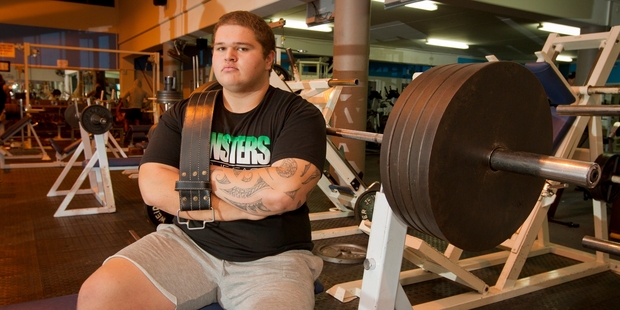 At his gym Harley Kamura is known as the gentle giant but when it comes to lifting weights he's all power.
The 18-year-old took out the Central Districts Powerlifting Competition's under-18 (sub junior division) bench press section in Hastings at the weekend.
At 190cm tall and weighing in at 150kg, Harley is known as the gentle giant but there was nothing gentle about the way he bench pressed his winning lift of 175kg.
In only his second competition, Harley has raised a few eyebrows with his lifting.
"If I had pressed that at the Oceania champs last year I would have taken the title."
Surprisingly it's not even Harley's personal best.
"I've pressed 180kg at the gym."
Nothing comes in half measures for the former Napier Boys' High School student, with Harley able to wolf down 15 Weet-Bix in one sitting.
"When you are preparing for a comp you have to stick to your diet but when you don't have a comp you can sort of eat what you like. But you try and stick to healthy eating."
He may be the youngest of one brother and two sisters but he is definitely not the smallest.
"I needed to eat a lot so I didn't get picked on," Harley joked.
Having great parents who were supportive when it came to training or competing was a major factor in his success.
"They are just great, I'm really thankful for everything they have done for me."
Harley got into the sport a little over a year ago.
"I sort of played rugby for a little bit when I was a little younger. But then I decided to try this.
"One of my mates told me to get into it because I was big and so I thought I'd try it. I suppose I just had this natural-born strength and I really enjoy it."
Harley, who works out at the Nfinite gym on Carlyle St, Napier, is preparing for the National Powerlifting Championships in Auckland in October.
This will include training six days a week for two to three hours.
He said his strength was the bench press but he needed to work on his squats, which he called "pretty poor" at 200kg.
"My deadlift isn't too bad at 260kg but it could be better."
Harley said he wouldn't have been able to achieve what he did at the weekend without his training buddies, known as the Monsters of the East: "When I first started weightlifting I could only press 60kg ... They have helped me a lot and I'm really grateful."