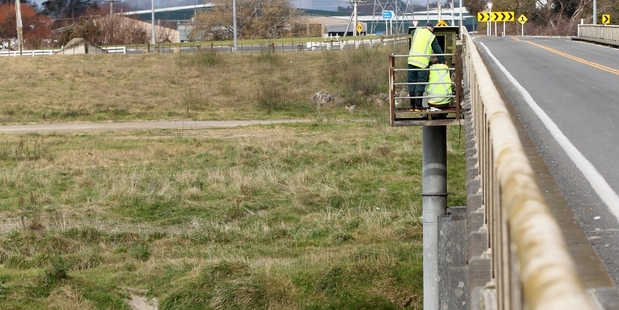 Hawke's Bay is set to wave goodbye to a mild early winter with a splash, as heavy rain is forecast to hit the region this week.
The predictions have prompted a severe weather watch from MetService, covering all of the North Island, except from Wellington to Manawatu, with heavy rain forecast from today through to Friday, but continuing rain for up to 10 days.
Hawke's Bay Regional Council spokesman Drew Broadley said it hadn't reached the stage of being a "warning", but hydrometric team staff had been preparing recording sites to cope and would be on flood duty from tonight.
Team manager Peter Davis said: "While not panicking, everything has been checked and we are comfortable heading into the next few days."
Among the checks were a Niwa crew yesterday monitoring a Chesterhope site in a surprisingly low Ngaruroro River, between Napier and Hastings, while the regional council reported another staff member was checking sites in the Wairoa area, but Mr Davis said: "Nothing seems likely to cause us any problems if we do get a good dump of rain."
The work includes measuring river flows and changing batteries on testing stations, which transmit the data crucial to storm event management.
Mr Broadley said it also included looking at tide-level projections, because of the potential the ocean has for closing the channels out to sea.
There's been no estimate of how much rain can be expected, although Napier can expect more than the 19mm it had for the whole of June last year, just a quarter of the June average.
Rain this week is not only forecast but an expected part of early-mid June weather in the area, with sports administrators among those not needing any forecast to tell them there's a good chance of wet weather disrupting their programme for the second weekend of the month, as it has done for years.
Hawke's Bay Rugby Union club development officer Gary Macdonald said this week and another about the start of August were traditional wet-weather risks, and he did have "alternatives" available if rain was heavy enough to threaten whether games would be played.
He said local bodies in Hawke's Bay did a good job in preparing grounds, and it generally took extreme weather to force cancellation of games.
"If it happens it's more around the temperature factor," he said.
"If we do have to cancel anything, it usually starts with the junior games. They go out of their way to look after the grounds, and they don't want to have to cancel any sport at all."
While Hawke's Bay, Wairarapa and the Gisborne area all have heavy rain on the radar, MetService meteorologist John Law said areas exposed to a northeasterly flow, such as Coromandel and the northwestern tip of the South Island, would "bear the brunt".
The New Zealand Transport Agency is urging care on the roads as the weather turns, saying rain and in some cases severe winds will make driving conditions difficult.