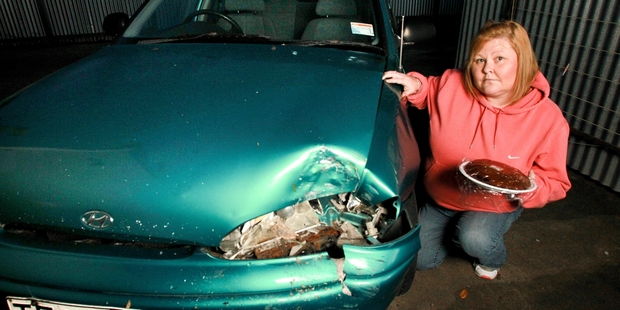 A Glaswegian's gift to the needy of Napier has been stopped in its tracks by a crash that wrecked her car yesterday.
The accident happened just as she was setting out with her goodies to help feed a group of young children before they went to school.
Jean Cudby, who arrived from Scotland with Kiwi husband Gary to settle in Napier just six months ago, was unsure quite how her 1994 Hyundai hit a tree outside her home in Bedford Rd, Marewa, other than something "slipped".
Her first thought was to ring breakfast organisers in nearby Maraenui to tell them of the mishap.
She was more worried the kiddies might miss out on the muffins and cakes she has been perfecting over the past few months as she looked for things to do while her husband was at work driving buses.
"I was highly disappointed that the kids weren't going to get their muffins," she said.
She confessed her husband had been the cook about the house until she embarked on her own wee project after the couple returned to New Zealand.
Having met when she was holidaying in New Zealand in 1996, they had been away for more than 15 years before coming back, with little more than a few suitcases of clothes to set up a hew household with their son.
She said "it breaks my heart" to hear of children going without.
She hoped that even if it was just one little treat, her chocolate sprinkled offerings could provide a positive impact in their lives.
"My car's gone," she said as she looked at the damaged vehicle, while masking a few of her own aches and pains.
"It was only a runabout, but it got me from A to B. But there a lot of more unfortunate people in the world."