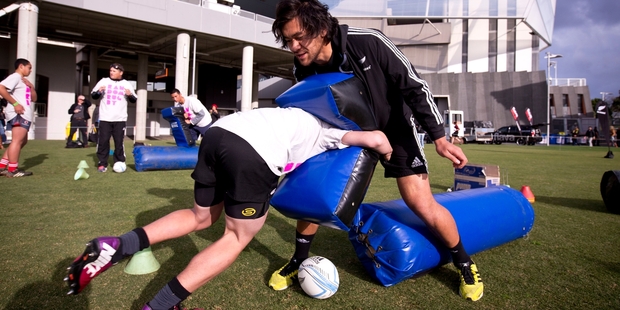 Rugby injuries across Hawke's Bay far outnumber football injuries, with taxpayers forking out millions for winter sport injury rehabilitation claims, ACC figures show.
Often perceived as a safer sport, football injuries in the Bay resulted in 1299 ACC claims last year at a cost of $1,001,460, compared to 2858 rugby injury claims at $2,584,939.
The top five injury categories for football and rugby were soft tissue injuries such as strains, sprains, or contusions; fractures or dislocations; lacerations, punctures, or stings; dental injuries; and concussion or brain injuries.
Nationally, football caused 38,487 injury claims last year costing $28,598,582, as opposed to rugby with 64,280 claims at $67,133,311.
Excitement is building ahead of the Fifa World Cup kick-off next week, with local clubs hoping it generates a spike in player numbers.
Although more younger players turn to football than rugby, the beautiful game has about 115,000 registered players nationwide across all age groups, compared to rugby with more than 148,000.
Central Football's Hawke's Bay football development officer, Leon Birnie, said groin, hamstring and ankle injuries were most common for local players.
Fifa has designed a football injury prevention programme called Fifa 11+, which has been rolled out in New Zealand in conjunction with New Zealand Football.
The extensive warm-up programme aims to reduce injuries in players 14 years and over, although it is up to individual clubs to take it on board.
Mr Birnie said the programme had been rolled out in Hawke's Bay and was being used by local coaches before training sessions.
A lot of parents enrolled young children in football to gain social skills through practising drills before games, which offered interaction with other children.
Events such as the World Cup and next year's Under-20 World Cup, which New Zealand is hosting, helped to boost the game's profile and increase player numbers, he said.
"You should see a big push after the World Cup with kids enrolling for next year and then especially with the Under-20 next year you should see a lot of kids.
"I'd expect numbers to be up right across the country."
Physiotherapist Hamish Aston, who has experience with international football teams, said the main injuries he dealt with were ankle injuries from tackling, hamstring strains from running, and the occasional knee injury.
Early in the season, it was more common to see shin splint injuries from running on hard ground and, as the ground got muddier, more players were prone to tired muscles.
Mr Aston was seeing more elite junior players in the 12-16 age group who were "over-worked and over-trained", but it was hard to predict what impact their injuries would have on their sporting future.
"They've got growing bodies and they're doing almost professional workloads ... and they've got to do their school work and everything on top of that."
Mr Aston was concerned at a lack of awareness and funding around football injury prevention programmes, but was an advocate of the Fifa 11+ programme.
"If teams do it regularly and properly it's shown to reduce lower limb injuries by 40-50 per cent."