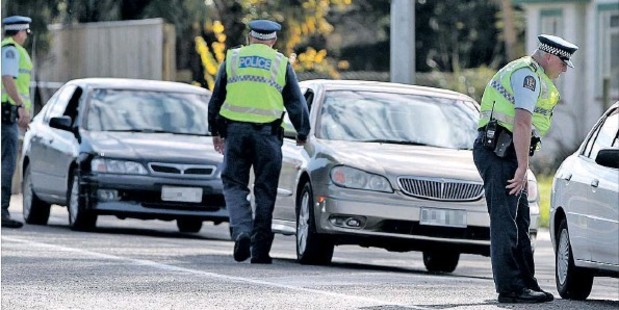 A Hawke's Bay Today reader's comment about drivers' cellphone use has led police to crack down on the region's drivers and issue 37 cellphone offences and 42 seatbelt violations.
Road policing Senior Sergeant Greg Brown said that throughout the week police had issued the 79 driving offence notices along Havelock Rd. The officers conducted the operation for two hours a day over three days in conjunction with road safety partners.
The blitz followed a reader's comment on the paper's website after last Saturday's story about Bay drivers continuing to flout the law.
"After the last story in Hawke's Bay Today, I happened to see a comment on the online version from a reader suggesting we take a look at Havelock Rd," Mr Brown said.
The reader, known as Allan, had said: "Every morning I travel between Hastings and Havelock and see at least five drivers, on the Hastings-Havelock road, and maybe once [saw] the police doing anything about it."
Mr Brown said that thanks to the reader's comment police had been patrolling Havelock Rd, including yesterday, and were also monitoring the roads around Clive.
He said the 79 offences were higher than police expected but showed the "level of naivety" most drivers apply to driving.
"In their view it never happens to them.
"Nobody plans to have a crash, but the reality is it does happen, hence our continued focus and our zero tolerance approach."
He said a vehicle travelling at 70km/h, the speed for Havelock Rd, means the driver is travelling at nearly 20m per second.
"Take your eyes off the road to answer a text for a second or two and you could have travelled 40-50m at a minimum.
"A lot can happen in that space. So no phone call is worth that - I'm disappointed that this number of people are still choosing to make such poor choices."
He said if a driver hits a pedestrian or cyclist at 70km/h "you will kill them".
"If you hit another car at 70km/h, in a t-bone crash, you have a 75 per cent chance of killing the occupant.
"And if you hit at that speed head on you will result in serious injury, and possibly death."
He said the Napier Rd fatal crash near Havelock North on January 7 was an example of how cars travelling at such speeds can kill. The crash killed grandmother Frances Ada Burden, 87.
The 20-year-old driver of the other vehicle was sentenced to 250 hours' community work and disqualified from driving for 12 months after pleading guilty to careless driving causing death.
"Our message is to remind all drivers that we will continue to take a zero tolerance approach and we will be out anywhere, anytime," said Mr Brown.
"So do the right thing."