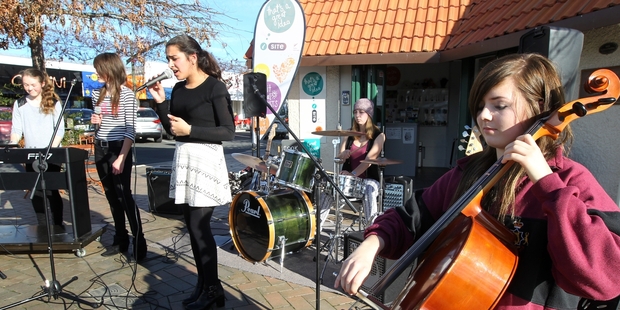 Having a practice in front of a willing crowd can do wonders for a band. Just ask Iona College band Delayed Resonance.
The all-girl band strutted their stuff at Havelock North's Village Centre yesterday, in preparation for the SmokeFree Rockquest Hawke's Bay regionals happening at the Napier Municipal Theatre tonight.
Iona College head of music Angela Warmke said the girls were fired up and ready for their performance.
"They're in the top 10 and it was a really hard competition this year.
"There was at least 30 bands in the heats.
"An all-girl band is quite unique really, I mean you can't compete with a sound you might hear from a full hardcore boy band. I'm really proud of what they've done so far."
The band consists of Year 12 students from Ms Warmke's music class.
The members are Tanisha Lovell (keyboards), Jean-Louise Roberts (vocalist), Tessa Rao (lead vocalist), Helen Holt (drums) and Sarah Thompson (cello and keyboards).
Ms Warmke said the band had only been together for a year and drummer Helen was the only member who had performed at the Rockquest before.
She said the group had been working hard to prepare for tonight's concert and yesterday's performance was a great way to gain some confidence before the show.
"They just want to do their best. They've seen what the competition is like in the heats. So they're just giving it their best shot."
The band's hour long performance yesterday consisted of a number of cover versions as well as two originals songs written by the band.
The girls' performance was greatly appreciated by the crowd, Ms Warmke said.
"It was really good, shopkeepers and passersby gave really good feedback."
Lead vocalist Tessa Rao has written the song Clockworks and co-written Insane with Sarah Thompson, it will be part of their seven-minute performance tonight.
Ms Warmke said all the girls had the talent to become great musicians.
"All the girls like music. I think they will all have music in their lives after high school."
The Smokefree Rockquest gets underway at 7pm tonight.