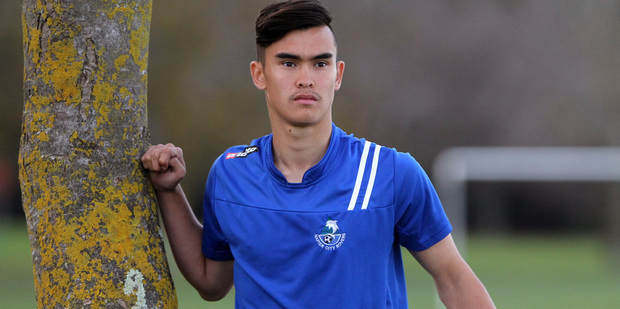 Adapting to different positions on the soccer field is small bikkies, really, when you start looking at what Miles John has to put up with during the height of battle.
The nippy Welsh import midfielder doesn't let too many things ruffle his feathers, notably seasoned players from Your Solutions Taradale AFC who tried to intimidate him in the Chatham Cup (national knockout) match last month.
"They tried to tackle me and all that but I'm used to it," says the 19-year-old Bluewater Napier City Rovers player before the team travels to Wellington to play Western Suburbs in their Lotto Central League match today.
"The experienced players that day tried to get into my head but I enjoy all that," John says of the one-tier lower ComputerCare Pacific Premiership outfit that pushed the Rovers to the limit before losing.
Consequently, when player-coach Bill Robertson started injecting the midfielder in at the coal face to add more spark to the attacking matrix John didn't flinch.
"I've been in the midfield but I was moved out wide and now I'm going forward.
"I'm trying to create chances so I'm getting used to the new role and I'm loving it."
No doubt not planting the ball in the net once on his debut season with the Rovers has robbed him of some glamour but certainly not glory.
The former League One Bristol City (England) academy player prefers the portfolio of selflessness.
"Scoring goals would be nice but my main thing is as long as we're winning, then it's all good."
The Cardiff midfielder, who returned to Welsh Premier League side Port Talbot for four months, jetted off to Napier early this year to gain experience.
John has impressed to date, possessing terrier-like skills. He's not afraid to nip at the heels of Beefeaters twice his height.
The teenager has vision and makes a habit of hitting the goal line with speed, before cutting back well-timed crosses on a 45-degree angle to those astute enough to anticipate hanging back to put the ball past the goalkeeper while the defence shadows John.
John has built a rapport up front with teenager Angus Kilkolly and Josh Stevenson and is working with Andy Bevin, who arrived recently from his American university break, as well as the latest recruit and bench player, Sam Messam, returning from Australia.
He is mindful the Lloyd O'Keefe-coached Suburbs are "a quality team and one to beat".
The hosts lost 1-0 to Miramar Rangers in a Chatham Cup encounter on Queen's Birthday Monday and in extra time were reduced to 10 men.
"It'll be a tough game," he says of the 2.30pm kick-off at Endeavour Park. Like most teammates, he found it challenging to travel down to the capital city but is adapting now.
"We have three to four stops, stopping at Shannon so it's quite enjoyable now," John says of match days, when they are up before the crack of dawn to board their vehicle.
He has taken in his stride the more autumnal than wintery weather, acclimatising from a summery start in balmy Bay.
His family in Wales are in touch via social media and so is his girlfriend, Jodie Williams.
His parents, Joyce and Steve, have another son, Nathan, 23, who doesn't play the beautiful game.
Robertson says Chris Greatholder and Messam will not travel today because of work commitments.
Midfielders Phil Dol and Josh Anstis also come into the equation.
"[Suburbs] have had some good and some poor results but technically they are a very good side who train with the Ole Academy," he says.
O'Keefe says Suburbs are coming off the best game of their season against Miramar.
"We probably dominated Miramar Rangers three-quarters of the game so we're bitterly disappointed we lost it," says the coach, ruing former Rovers midfielder Cole Peverley's winning goal for Rangers.
"Our youthfulness can mean naivety so we can get caught out at times."
O'Keefe says the Aaron Jones-captained Western Suburbs have had a good run of form with a couple of league wins.
Jones, a Kinetic Electrical Hawke's Bay United English import defender, is only 21 but brings a sense of maturity in the hosts' defence and can build cohesiveness with the midfield and attack.
While the Suburbs are fifth on the ladder, O'Keefe says it doesn't reflect how well his troops can play or their desire to claim three points.
The weather is more settled and cooler on the coast than in the city but he says Endeavour Park is up there with Bluewater Stadium in Park Island.
"That suits our possession-based game," he says, hoping Robertson will bring that attitude to a game which should prove to be a humdinger for the fans of the beautiful game.
Another Bay United player, Harry Edge, is serving a suspension today for a second-offence red card last weekend.
LEAGUE DETAILS
WHO: Western Suburbs v Napier City Rovers.
WHEN: Today, 2.30pm kick-off.
WHERE: Endeavour Park, Wellington.
Referee: Mark Whitehead.
AR1/AR2: David Gates/Martin Roil.
WESTERN SUBURBS: Mitchell Stewart-Hill (GK), 2 Riley Kelliher, 5 Tyler Lissette, 6 Alex Palezevic, 7 Ben Sippola, 8 Sean Morris, 9 Michael Fraser, 16 Noah Billingsley, 18 Elliot Collier, 19 Bryce McMillan, 20 Aaron Jones (c), 22 Bayley Webster, 23 Greg Rosenthal, Mason Kelliher (RGK).
Coach: Lloyd O'Keefe.
ROVERS: 1 Jonty Underhill (GK), 2 Josh Anstis, 3 Daniel Ball, 4 Bayley Chadderton, 6 Miles John, 7 Matt Hastings, 8 Stu Wilson, 10 Andrija Ilic, 11 Andy Bevin, 12 Oli Chapman, 14 Josh Stevenson, 15 Ryan Tinsley, 16 Danny Wilson (c), 18 Angus Kilkolly, Phil Dol, Kyle Baxter (RGK).
Coach/player: Bill Robertson.
Manager: Malcolm Wilson.
OTHER GAMES
Today:
Miramar Rangers v Upper Hutt City, 2.30pm at Dave Farrington Park.
Palmerston North Marist v Tawa AFC, 2.45pm at Memorial Park, PN.
Petone FC v Lower Hutt City, 3pm at Petone Memorial Park No 1.
Tomorrow:
Wairarapa United v Wellington Olympic, 2pm at Queen Elizabeth Park, Masterton.