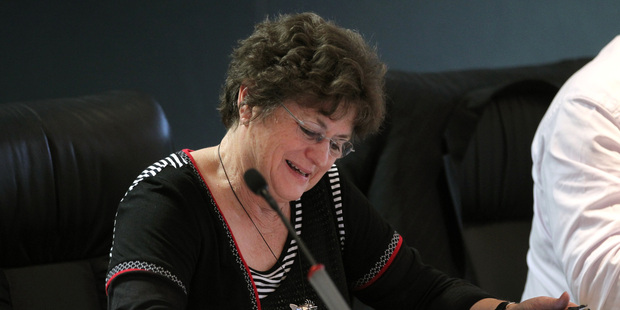 Hawke's Bay Regional Council deputy chairwoman Christine Scott has lashed out at fellow councillor Tom Belford, labelling him dishonourable and a liar after he accused her and others of wanting the Ruataniwha dam built "at any cost".
Mrs Scott yesterday threatened to take action against Mr Belford under the council's code of conduct after failing to get an apology from him for the comment at a council meeting.
In a blog post on his BayBuzz website last week, Mr Belford said he was one of four regional councillors who supported a recent board of inquiry draft decision on a plan change for the Tukituki catchment because it would benefit the environment.
He said the other five councillors, along with the council's investment company, Hawke's Bay Regional Investment Company, and senior council managers "have a different priority".
"They want a dam ... at any cost. And they fear the strong environmental protections required by the BOI will quash the dam, whose prime purpose is to promote intensified farming," he wrote.
Mrs Scott told yesterday's meeting: "I take issue with that. It is simply not true.
"The action of the person writing such lies is extremely dishonourable. Such behaviour really shocks me."
Mrs Scott said environmental improvements had been the top consideration as the council had developed plans for the Ruataniwha dam and irrigation scheme in Central Hawke's Bay over several years.
In its draft decision the board of inquiry approved resource consents for the dam but imposed strict limits on nutrient leaching in the Tukituki catchment, which council staff say will make some production in the area uneconomic and therefore puts the future of the dam in doubt.
"All along I've looked for better environmental outcomes for the future and certainly I've considered the benefits to the economy of the irrigation to the farmers, to the processing industry ... but never did I look to this at the expense of the environment," Mrs Scott said.
"I can't suppose to speak for my fellow councillors who have been ridiculed in this way, but I suspect they are in agreement with me in saying that they care for the river too," she said.
"I do not, however, care for liars, nor am I going to accept such behaviour against me or against other councillors or against any of the staff.
"I'm going to ask for an apology, here in this meeting, and the removal of all that information from the website."
She said if an apology was not forthcoming, "I suggest we go through a formal process under the code of conduct".
Under the code, councillors are required to be respectful to each other and to staff.
The council can vote to censure a councillor or remove them from committees or positions of authority if they are found to have breached the code.
A request from councillor Rick Barker for Mr Belford to be given a right of reply was turned down by the chairman, Fenton Wilson.
"We'll see it on the blogsite, no doubt," Mr Wilson said.
"I think the point has been made here.
"There is some unacceptable stuff. I think we actually need to get together and have a chat."
Mr Belford said after the meeting he did not intend to apologise to Mrs Scott.
He said he was free to comment on how he saw councillors behaving.
"I'll continue to call it as I see it," he said.