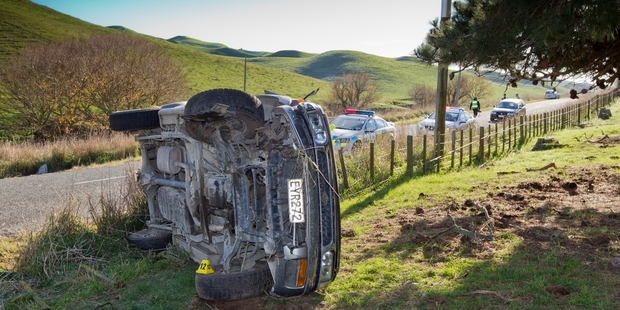 A 45-year-old Hawke's Bay man was transferred to Wellington Hospital in a critical condition last night after rolling his 4WD in Raukawa south of Hastings.
Police said he was the sole occupant of a vehicle found on its side in a paddock by a resident, who phoned police at 7.39am.
"When we got there the person was out of the car but had serious injuries," Eastern District Acting Senior Sergeant Clint Adamson said. "We can't ascertain how long he was there."
The Nissan Terrano was found on its side on Raukawa Rd, about 6km from the intersection with Maraekakaho Rd. It had rolled multiple times over a distance of about 50m after coming out of a left-hand bend travelling north, destroying a section of fencing with concrete posts. The car ended up on its side on top of an operating electric wire that topped the fence.
St John Ambulance district operations manager Stephen Smith said the man suffered head injuries and was critical when taken to Hawke's Bay Hospital.
A spokesman for Wellington Hospital said the man was in a critical condition in the intensive care unit last night.