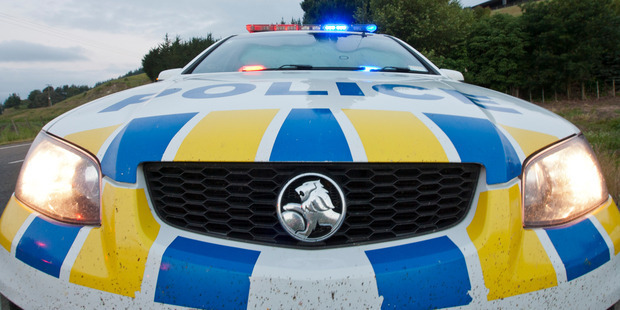 For Hawke's Bay police it was the worst of starts to the annual Road Safety Week.
Twenty-five-year-old Hina Kerei Johnson Hamahona died after crashing his car off the road near Havelock North last Monday.
The crash happened about 4am with the car smashing through a roadside barrier, striking the opposite back of the Karamu Stream and ending up submerged, with Mr Hamahona trapped inside.
His death took the national road toll to 105 and has left police and emergency services hoping this month will not echo April, which was the worst April in five years for deaths on the road.
By yesterday the national toll had risen to 116 - at the same stage last year it was 97.
Thirty-one people died during April, three of them in Hawke's Bay, and the figure rattled police as it was 14 more than in April 2013.
There has been a terrible familiarity to the road deaths, according to the New Zealand Transport Agency, which has listed the top five reasons, in terms of social cost, behind fatal crashes.
(1) Lost control
(2) Too fast for conditions
(3) Alcohol
(4) Failed to give way
(5) Did not see the other party
"The fact that people are dying on our roads is not only very disappointing for Police and other road safety partners, it is an obvious tragedy for the families involved," Hawke's Bay Road Policing and Alcohol Harm Prevention Manager Senior Sergeant Greg Brown said.
"In many instances the deaths are entirely preventable and they are a sad waste of life."
Mr Brown said police and support agencies saw only too clearly the long-term impact crashes which claim lives had on those who were involved but who survived.
He said police and road safety agencies were putting in a lot of time and effort to make the region's roads safer.
"So the worsening trends of fatalities is of concern and at times frustrating when investigations reveal just how easy they were to prevent"
Mr Brown said police would not back off the throttle in terms of their focus on crash prevention and road safety - it would increase.
"We are in for the long haul and this drives our focus on speed, alcohol, seatbelts and distraction because we know when we do this, people change their behaviour and we get safer roads for everyone."
As evidenced by the NZTA statistics, alcohol and speed are the main contributors to crashes and accordingly police took a "zero tolerance" approach to both.
"In Hawke's Bay, over a week, we catch on average about 120 drivers speeding on both local roads and on the highways."
However, during holiday periods like the "Safer Summer" programme, where the speed tolerance is dropped to 4km/hr above the limit, the rise in nabbing speedsters was substantial.
It effectively doubled.
"In some of the worst weeks over Safer Summer we saw more than 270 drivers caught exceeding the limit."
Mr Brown said on the whole, from his own observations, about 80 per cent of drivers observed the speed limit.
"And although most drivers who are caught acknowledge knowing what the speed limit is, too many still ignore the consequences largely because they don't associate their actions with the increased danger they are placing themselves or others in."
Mr Brown said the recent debate of the new speed limits in Hastings was a prime example.
"The new limits have been implemented on sound scientific analysis taking into account the crash history and the roadside hazards that exist," he said.
"Because most people have not been involved in a crash, they think the risk to themselves is minimal."
He had heard pretty well the whole colourful and slightly indignant swathe of comments from people he has picked up for exceeding the limit.
Last week alone, Mr Brown said he listened to errant drivers who scowled and remarked, "I've never seen a crash on this road" as well as "this is ridiculous ...
it's a straight road".
He was unswayed and unimpressed.
"The truth is crashes do happen and consequences are often significant and sometimes tragic."
He said in essence the debate perpetuated the belief that the law was unjust, unfair and unreasonable.
"Instead of people accepting that what used to be is no longer acceptable, and modifying their behaviour as a result.
"So we make no excuses in taking a tough line on speed, because we see the tragic outcome of a crash where a few bad decisions can culminate in the loss of life."
No one got behind the wheel of a car or the handlebars of a motorcycle with the intention of being involved in a serious crash.
"But often a bad combination of circumstances and poor decisions can turn a near miss into a tragedy - so we need drivers to eliminate as many of those risks as possible.
"You can't control what other drivers do but you can reduce your own speed, wear your seatbelt and focus on driving safely because this way you increase your reaction time and are ultimately safer on the road."
In terms of nullifying good reaction times and ensuring clear thought safely, alcohol and driving was a frightening mix.
"It is scary what some people think is an acceptable amount to drink before they drive."
He said the general perception was that drink-driving was solely the domain of "bad people" but that was well off the mark.
"There is a wide range of people who still drink and then drive, justifying their stupidity with a convenient excuse," he said.
"My question to them and their families is 'why do they think they can place everyone else's safety at risk?'
"The drink-driving figures across the Eastern Region, which takes in Hawke's Bay, are not flash.
"At the present time we would average between 20 to 30 drivers a week driving in excess of the breath alcohol limit."
During April, 39 motorists were picked up in excess of the limit in Napier, 31 in Hastings and six in Central Hawke's Bay. There were 47 in Gisborne and four in Wairoa.
There were already 21 in Napier for May and nine in Hastings.
Everyone was subject to the same physical limitations, Mr Brown said.
"With the proposed changes to the blood alcohol content we are taking every opportunity to remind drivers, who blow a currently legal breath alcohol level of 250-plus, to think about having no alcohol before they drive."
The campaign to detect and get drink drivers off Hawke's Bay roads remained high on the policing list.
Inattention and ensuring people had a greater chance of avoiding death or serious injury through wearing correct seat restraints was also firmly in police sights.
Getting the "put it on" seatbelt message through was a challenge in Hawke's Bay which did not have a good record in that field, Mr Brown said.
"The number of drivers not wearing seatbelts is of major concern."
Offenders were being picked up at checkpoints, which were alerted by plain-clothed "spotters" who called in the details of the cars they saw where belts were clearly not being used, or the driver was using a cellphone.
"At the same checkpoints we regularly get 20 to 30 people not wearing their seatbelts, which with all the information available to the public is ridiculous."
Since November last year, police had been setting up checkpoints in "random locations" across the Bay targeting seatbelts and cellphones.
"While we have noted a reduction in the number of people using their cellphones, we still catch too many," Mr Brown said.
"In an hour we can catch between 10 to 20 drivers using their phones while driving - that is totally unacceptable."
So in the name of safety for all road users the heat would stay on, and Mr Brown had some simple, but wise words for road users.
"My message to drivers is simple - if you want to be safe do the right thing. Drive at a safe speed for the conditions, avoid distractions and be an alert driver with no alcohol or drugs in your system. Keep your car in a safe condition, check the tyres, lights and windscreen regularly, and always wear your seatbelt. Do the right thing all of the time, and not just because you see a police car. If you choose to ignore the rules, then expect to be stopped - and don't complain about the consequences."
# During April, 11 of the deaths across the country were car or van drivers, nine were passengers, three were motorcyclists, three were pedestrians, two were cyclists, two were truck drivers and one was driving a tractor.
# Twenty-four of the 31 deaths were in open road crashes. Fifteen were in single vehicle crashes in which a driver lost control of the vehicle or ran off the road, six were in head-on crashes and four were in rear-end, or "collision with obstruction" crashes.
# Of the 23 vehicle occupants who died, 13 were not restrained at the time of the crash.