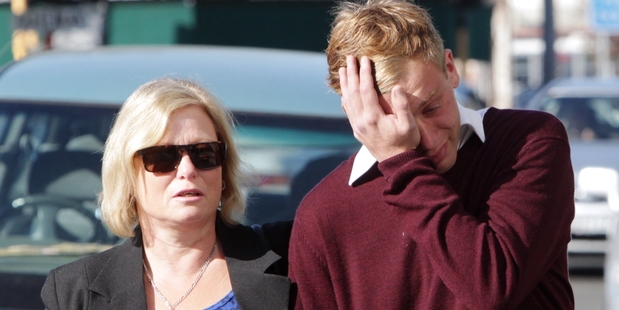 A distraught motorist stood before a grieving family in court yesterday to hear his fate after causing the death of grandmother Frances Ada Burden.
Jack Kenneth Vose, 20, was sentenced to 250 hours community work and disqualified from driving for 12 months in Hastings District Court, after pleading guilty to careless driving causing death after his vehicle collided with the pensioner's car head-on near Havelock North on January 7.
The 87-year-old was killed after her Mazda Demio, travelling north on Napier Rd, slammed into Vose's south-bound van which had drifted across the centre-line, shortly after 3pm.
Mrs Burden's 21-year-old granddaughter Georgina Ingle shared her family's heartbreak as she read her victim impact.
"No words can describe the sadness and devastation surrounding my Nana's death ... Losing her was like the end of the world."
The Victoria University of Wellington student said how frequent nightmares and panic attacks had affected her employment and study, while also being "terrified" to travel in cars.
"My course content has been extremely traumatic as they have used accidents as examples in my study," the third-year graduate said.
"I was devastated to realise I wouldn't be able to tell Nana I had finished ... now I'll never have a photo with her at graduation."
Vose listened with obvious emotion as Miss Ingle read her statement and also when his lawyer, Eric Forster, outlined his final submissions to Judge Jonathan Down. "Inattention on his part has had extreme consequences ... It is a price he will carry with him for the rest of his life," Mr Forster said.
He said Vose's failure to keep to his side of the road was the only mistake he made in a crash offering "no explanations", no witnesses and his client unable to recall the tragedy.
Vose also suffered from injuries sustained in the crash and was taken to Hawke's Bay Hospital with moderate leg injuries.
Mr Forster said Vose now has a reduced capacity to work given his injuries and continues to receive medical treatment and rehabilitation.
Judge Down said: "Whatever I say or do in this sentencing is not going to change the loss for the family of Ada Burden."
"You have realised the impact your carelessness has had on [Georgina] ... I have no doubt the emotion you demonstrate in court is genuine and a true reflection of your remorse. Living with what you have done will be a significant punishment and will probably trouble you for some time."
He said there was a complete absence of aggravating features in the crash after the police investigation found Vose had not consumed alcohol or drugs before he drove, was not speeding, was not using a mobile phone and was not deprived of sleep, but had simply lost concentration.
"Whenever you are allowed to start driving again I have no doubt you will be a very cautious driver."
Mrs Burden was the first official road fatality for Hawke's Bay in 2014 and as of yesterday the national road toll for the year was 116.