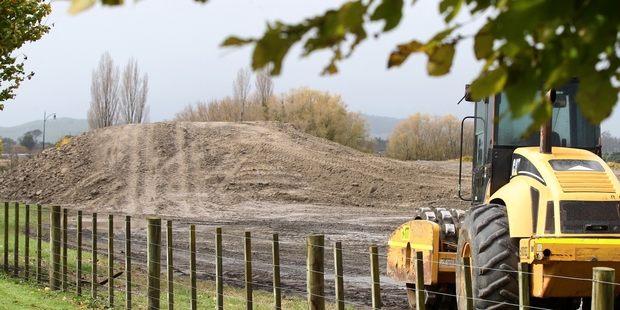 Havelock North is crawling with rats and is also the worst place in the region for mice, cockroaches and white-tailed spiders.
Ace Eradicators owner Phillip Johnson said Havelock North was definitely the worst area in the region for rats, although the rodent situation was really bad all over Hawkes Bay at the moment.
Mr Johnson said weather conditions had been ideal for rodent breeding and there was an abundance of food for rats and mice.
"Havelock North has a big [rodent] issue due to a combination of factors, including a bumper breeding season, high levels of construction and high density of plant growth."
Havelock North local Gail Hartley has been inundated with rats her two cats have caught.
Last week the concerned Brookvale Rd resident received four rats in one night.
"Wev'e had to lock the cat door so they cant bring any more in."
Ms Hartley said she had also noticed rats scampering around while walking her dog in Guthrie Park.
Mr Johnson said Havelock Norths semi-rural location meant there was plenty of plant growth for rodents to hide in. Havelock North was also the worst for mice, cockroaches and white-tailed spiders, he said.
Pest Control Specialists services manager Phil Duffy said it was "the time of year" for rodents and as temperatures dropped, they would seek refuge in homes.
To discourage rats and mice, Mr Duffy recommended discarding food scraps carefully and making sure there were no holes in the walls or around plumbing pipes in the home.
Keeping vegetation off the house would also discourage insects, which could use the vegetation as a bridge to get in, he said.
As she watched rats scurry about Guthrie Park in broad daylight, Ms Hartley said she believed the problem may have been caused by the development at the neighbouring Romanes Reserve.
Mr Johnson confirmed short-term vibrations in the ground caused by construction could cause rodents to come out of hiding.
The earth-moving at Romanes Reserve is because of the construction of a soccer field paid for by Hastings District Council.
Ms Hartley suggested if the construction was causing a spike in rodent activity, the council should pay for traps to be placed around the park.
Council parks and property services manager Colin Hosford said reports of increased rodent activity were received early this week from the area around Romanes Drive in Havelock North.
The councils Maintenance Group had been told to set vermin traps in the area in an attempt to get the rat population under control.
"The traps will be monitored daily until the end of the construction period and then we will review the issue to ensure it does not continue to be a problem", Mr Hosford said.
We will also evaluate the effectiveness of the traps if the rodent activity continues at high levels over the next few weeks.