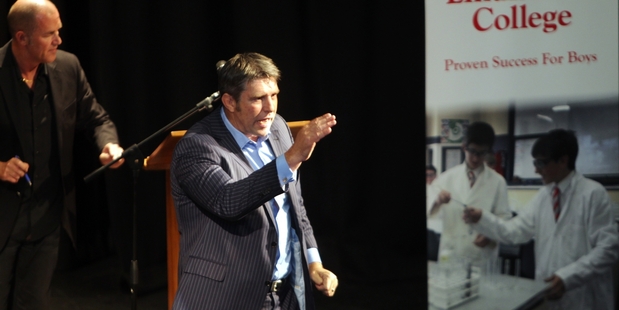 The wine flowed and the bids were generous at a glitzy charity auction in Hastings last night to raise money for the Lowe Corporation Rescue Helicopter Service.
About 400 people paid $95 a head to attend the annual Hastings Karamu Rotary Club's charity cocktail party - and then forked out $60,000 more on auction items donated by local businesses and individuals.
Hawke's Bay real estate identity and the night's auctioneer, Simon Tremain, did his best to ensure the bids kept coming and the totals kept climbing. Onlookers who scratched their nose at the wrong time were put on notice.
"At all charity auctions, I take all bids," Mr Tremain warned the crowd.
Hastings Karamu Rotary Club's committee organiser, Stephen Eaton, said the charity event had been graciously donated a number of "extraordinary" auction items this year.
They included an 18ct yellow and white gold diamond ring from Grieve Diamond Jewellers and a Southern Alps get-away package that included return flights to Queenstown, accommodation at Pepper Beacon Resort and a BMW Alpine XDrive experience from Best Travel and Jeff Gray BMW.
The diamond ring was snapped up for $2750 - a bargain according to Mr Tremain.
An "ultimate wedding anniversary experience", which included helicopter rides to and from the Mangapapa Petit Hotel, went for $4250, while one bidder paid $5000 for a degustation dinner for eight at Elephant Hill restaurant.
"The evening is a great occasion with a lot of effort given to every detail to make it special but the main focus at the end of the day is to raise much needed funds for a life-saving service," Mr Eaton said.
Each year, the Lowe Corporation Rescue Helicopter Service undertakes more than 320 emergency mission across the Hawke's Bay region, helping those who require urgent medical transportation to hospital.
To operate the service, the Rescue Helicopter Trust needs to raise $1.2 million per annum from donations and sponsorship, including events like the annual charity cocktail party.
"Helicopters eat money up like nobody's business," the trust's chairman, Andy Train, told the crowd before the auction began.
"So bid up please. We need your help to make our service work."
The trust's marketing and fundraising manager, Louise Harvey, said the support received from individuals and businesses played a significant role in keeping the rescue helicopter crew flying and helping others.
"The annual Hastings Karamu Rotary Club's cocktail party is a great example of community support coming together. We are also humbled and thankful for the ongoing support received."
The cocktail event is sponsored by IMS Payroll and Advintage.