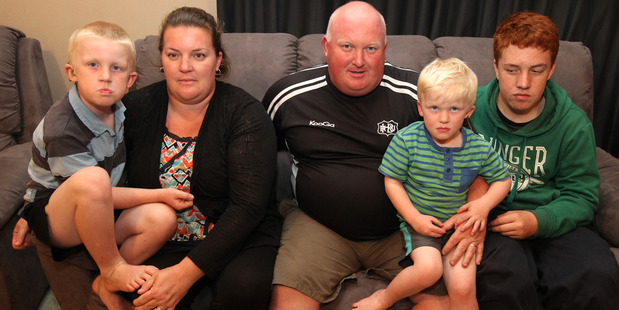 Budget 2014 will deliver to the Holtham family of Havelock North.
Nicky and Andrew Holtham have four children, aged three to 16. The youngest two are profoundly deaf and have cochlear implants so they can hear.
They received just one government-funded implant each, but this year's Budget gives funding for a second implant from July.
Only children under six are eligible, so Ollie misses out by "just a few months".
A second implant is too expensive for them to fund themselves. The cost is estimated to be about $25,000.
Mr Holtham is a sales rep in the auto industry and Mrs Holtham is a stay-at-home mum.
He said that, financially, some weeks were better than others and hoped Thursday's Budget would look after "families like ours".
"Every Budget that comes out seems to make the rich richer and the poor poorer. A family like us has to scrimp and save.
"Our kids don't go without but sometimes Mum and Dad do, to make sure the kids are okay.
"We want our share too.
"We often talk about before we had kids - we were never home. But times are tough now feeding four kids. For Nicky and I to go out to dinner it's a treat.
"Three or four years ago you could spend $200 at the supermarket and get a reasonable trolley full of food.
"Nowadays $200 buys you a couple loaves of bread and some milk.
"You can now only afford to half fill the trolley unless you are a double-income family."
The price of dairy was too high, he said.
"Why is it that a 1.5L bottle of fizzy is $2 cheaper than a litre of milk?
"I would much prefer to send my kids down to the shop for a bottle of milk each than a litre of fizzy.
"I know farmers work hard and they deserve everything they get, but do we really have to pay them so much?"
He said they had always rented.
"We were never really in a hurry to buy a house, but KiwiSaver is working away nicely so that when the time comes, we can.
"That's one thing that the government has done well."