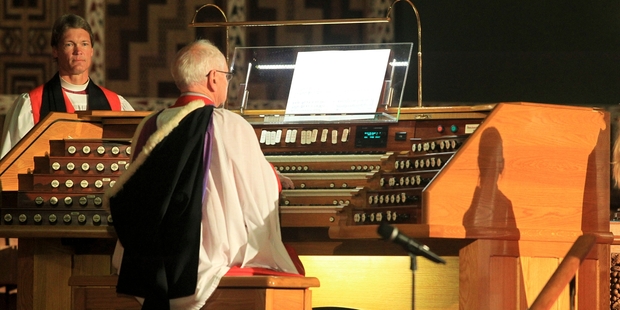 A free concert will be given to celebrate the completion of fundraising for rebuilding the pipe organ in Waiapu Cathedral.
Because of the generous support from the wider Hawke's Bay community, cathedral dean Michael Godfrey decided to say thank you with a free concert this Sunday, at 2.30pm.
The timing was chosen so as many people as possible can attend. The event will give concertgoers the chance to view the impressive organ console close up, when it is moved to centre-stage position.
Every 30 years or so, large pipe organs need to be rebuilt because of the thousands of moving parts. It is an expensive process.
For the cathedral this meant erecting scaffolding and dismantling the whole instrument. It was then taken in containers to Timaru for restoration and rebuilding. In the process, it was decided to enlarge the organ from three to four keyboards, bringing it up to top international concert standards.
Since its installation last year, the rebuilt instrument is arguably the finest concert organ in New Zealand. It is an outstanding cultural icon for Hawke's Bay, able to attract top international artists.
At the inauguration of the organ last year, a visiting former organist from St Paul's Cathedral in London commented: "Seldom have I played an instrument that is so versatile in character."
John Wells' concert at Waiapu Cathedral promises a wide range of moods and styles, with something for everyone. Bach's stupendous Toccata and Fugue in D Minor opens the programme, with its high drama and towering musical architecture.
It will be followed by three magical miniatures by Louis Vierne, which exploit subtle organ colours with rapid fingerwork. They are followed by variations on Paganini's violin melody, written for organ pedals alone - the virtuoso element being here in the feet. Virtuosity in the hands and feet is further developed with Saint-Saens' charming Fantasie.
After an interval, the programme continues with an excerpt from Wells' own Organ Symphony, written for the inauguration of the new Klais organ in the Auckland Town Hall.
The programme continues with further high drama and Wells' arrangement of Berlioz' electrifying March to the Scaffold from his Symphony Fantastique.
Finally, a rip-roaring toccata to balance the opening of the concert, this time by the English composer Ralph Driffell.
The concert that will push Wells' technique and the organ's capability to the limits. Go along and see if they are both up to the challenges.