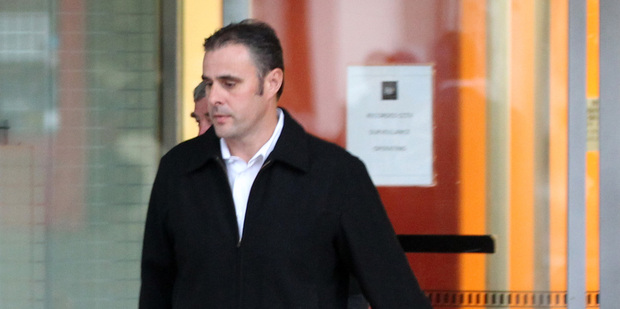 A Hawke's Bay police officer accused of indecently assaulting five teenagers told two girls they were drunk and "no one would believe them", a court heard.
Adam Dunnett, 37, a Flaxmere constable, went on trial yesterday in the Napier District Court, on 10 counts of indecent assault allegedly committed while he was a volunteer lifeguard director and coach at Ocean Beach between May 2011 and New Year's Day 2013.
He denies all charges which arose after parties at the Ocean Beach Surf Life Saving Club and the Taradale Fire Station.
In opening, Crown prosecutor Gavin Thornton said Dunnett had groped the teenagers' genitals and breasts and pinched bottoms at parties and while some slept.
Dunnett had also asked one complainant if "she was going to tell anyone". In a separate incident, Mr Thornton said, Dunnett told two girls he was a police officer, they were drunk and "no one would believe them".
In total, the Crown alleged there were five different "events or episodes".
While giving evidence, one of the complainants said she "always trusted" and frequently joked with Dunnett, openly talking about her personal life with him.
In emotional testimony, she said she was "terrified" when Dunnett was rubbing her lower back during a 21st birthday party at the Taradale Fire Station.
She recalled another incident outside the Ocean Beach Surf Life Saving Club during a toga party where Dunnett allegedly touched her. She insisted she wasn't drunk but had been drinking during the night.
"I didn't want anyone to know about it," she said. "I was scared people would say 'she wanted that' ... people would look at me as a little skank."
During cross-examination by Dunnett's lawyer, Jonathan Krebs, she agreed the police officer had given her a "big hug" but could not recall grabbing Dunnett by the cheeks and kissing him on the lips, as Mr Krebs suggested.
Four other crown witnesses took the stand yesterday to give their accounts of happenings at the parties.
One witness said she saw Dunnett "grinding" against one of the complainants during the toga party.
She said he was dancing closely with the girl and touching her bottom and genital area.
"I could see the discomfort on her face ...
"He was slurring his words and just his general demeanour was what I would classify as drunk," the witness said.
She agreed during cross-examination that Dunnett was not the only person "grinding" that night and the complainant was "relatively drunk".
She also agreed with Mr Krebs when he said: "The party wasn't inappropriately loose but it wasn't a formal ball, was it? After all, it was a toga party."
During re-examination the witness said an "alarm" went off when a man in his 30s was grinding against a girl under 25.
"When you see them with bodily contact that's creepy and that's wrong."
Earlier, Adrian Barclay, committee member and junior surf co-ordinator, said Dunnett had taken up a coaching role at the Ocean Beach club in 2010.
He said the police officer ran the surf squads "really well" and was a "valuable contributor" to the club.
During cross-examination, Mr Krebs asked him about the "social elements" of the club.
"I would say it is one of the more social clubs in the Hawke's Bay area," Mr Barclay said.
Since the incidents were alleged to have occurred the club's alcohol policy had been reviewed but was found to be in line with current legislation, he said.
Dunnett is still employed with police but is suspended on full pay.
The trial, before Judge Les Atkins QC, continues.