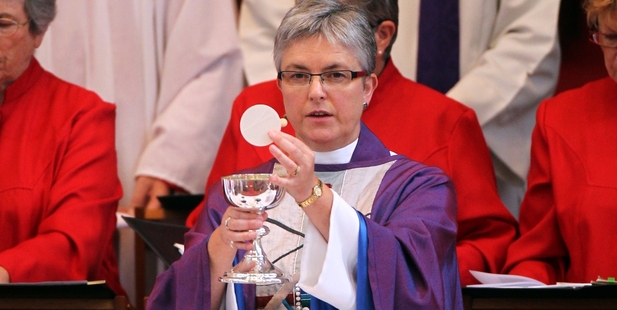 Former Napier woman Reverend Helen Jacobi has made history, being inducted as the first female Vicar of Auckland's St Matthew in the City, during a special service on Thursday evening.
"It's quite surprising really because St Matthew is so liberal, they just haven't got around to it," she said. "It was a wonderful service, there were about 300 people, including some from Napier - your former parish hands you over."
Dr Jacobi was also the first woman to become Dean of Waiapu Cathedral in Napier, where she served for nine years, until 2013.
"We adored it in Hawke's Bay, it's been a year since we left, but this brings new challenges."
Since then she filled a temporary post in Auckland before accepting the permanent position at St Matthew - a varied role which would see her working with people from all walks of life.
"It will be different, I was at the cathedral for a long time, it was down town in a Napier context, but downtown Auckland is different.
It's right next to the City Mission so there are quite a few homeless people, then there's people from the business community on the other side.
"There are lots of tourists because the building is so beautiful and lots of events, so in that respect it's similar to Napier."
One change would be the sheer number of weddings coming through the church, which had a "steady stream" of about 60 to 70 per year.
"I will hold a Sunday service, and there's one on a Wednesday - there are an enormous number of weddings, many of which are mid week."
Dr Jacobi was ordained in the Diocese of Wellington in 1991, before becoming Vicar of St Luke's, Wadestown, Wellington.
She also lived in Ottawa, Canada, and France where she was involved with Christian education and community ministry. Last year, she completed a three month stay in the USA where she was a scholar in residence at Virginia Theological Seminary.
That was in addition to experience in social work, and in social policy research.
She was married to Stephen Jacobi, a former diplomat and Executive Director of the International Business Forum, they have two daughters: Hannah and Miryam.
St Matthew in the City Wardens Gavin Rennie and Judith Faithfull, expressed their delight at Dr Jacobi's appointment.
"We look forward to welcoming Helen, and to working with her."