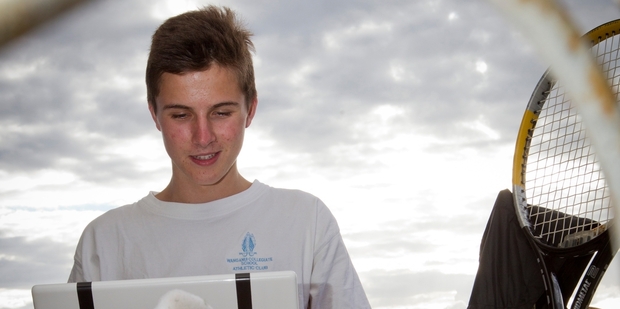 IF THE placid demeanour of Geordie Beamish is anything to go by then it's fair to assume it'll take something special to put him off his stride.
The unflappable 17-year-old from Hawke's Bay is posting school and age-group times on the track and road that are raising eyebrows around New Zealand.
Beamish, of Havelock North, has an unblemished record this athletics season (since term four last year) and his Wanganui Collegiate coach, Alec McNab, is making all the right noises about his potential.
"He [McNab] knows what he's talking about," says Beamish who is back here for the first-term break with his sheep-farming parents, Josi and Simon Beamish.
Enough said.
A Scotsman who represented his country in the Commonwealth Games over similar distances, McNab believes Beamish, who focuses on the 1500m to 3000m distances in summer and crosscountry to 8km in winter, is on track to enter the global arena.
"He has faith in me," the former Lindisfarne College and Hereworth School pupil says of McNab.
So does Beamish have faith in his ability?
"I'm not committed to anything but I'm keeping my options open," he says affirmatively.
The year 13 student's acquisitions include winning the New Zealand Secondary Schools' Championship 3000m event and clinching the Junior John Walker Mile a week later.
He also claimed the bragging rights to the national under-20 1500m title in Wellington, winning in 3min 54sec.
Last month at the North Island Secondary Schools' Championship in Masterton he won the 1500m and, in doing so, improved his time to 3:53.6.
A day earlier he found himself on the top perch of the podium in the 3000m, halting the stopwatch at a North Island record-breaking time of 8:23.15.
The last time anyone eclipsed him was during the Oceania Championship in Tasmania last August.
Not surprisingly, selectors have factored him into their national age-group equation.
A cursory glance at the Beamish lineage fails to yield anything conclusive on where the running genes hail from.
Nevertheless, it's safe to say the youngest generation of Beamishes is naturally gifted although not all of them have tapped into that potential.
Elder brother Hugo, 25, an engineer in Wellington for the past two years, has created the footprint for others to follow.
The former Lindisfarne and Wanganui Collegiate pupil won the national 5000m crown last year but didn't defend it this year due to injury.
Having won a scholarship to the East Coast of the United States (near Philadelphia), Hugo finished sixth at the American university games.
Sisters Lucinda, 23, of Melbourne, and Evie, 20, attending Otago University, were occasional crosscountry runners at school here but won their races.
In many respects, Geordie Beamish was also of a similar mould.
"I only started training two years ago to become competitive," he says, adding he had only a couple of East Coast road races under his belt.
"I was winning races without training," says Beamish, who also attended Havelock North Primary School and played cricket, rugby and soccer.
Attending a co-educational collegiate, though, wasn't accidental.
Beamish carried on the rich family tradition to Wanganui in 2012, mindful of its reputation as a running school.
"The athletics culture there is great - everyone does it - so it was quite easy to be motivated."
Actually McNab was in his first year on the school staff when Beamish's father was in his first year as a student.
"I'm not amazing but I get through school," says the teenager, who is contemplating attending Canterbury University to pursue an engineering degree.
McNab is his first coach of any description but Beamish isn't sure what'll happen to that rapport when he leaves school at the end of this year.
Beamish's training regimes includes a six-day routine with staggered distances accumulating to about 50km a week.
"It gets bloody cold and it's always windy, which is annoying," he says when asked if he misses the Bay climate.
Beamish has a healthy rivalry with Jacob Priddy, of Hamilton Boys' High School, whose heels he built an affinity with over a short time.
"He used to beat me every time two years ago but the last 12 months we've been pretty even," he says, revealing he doesn't keep Priddy too far from his shoulder when they are pounding the tracks or roads.
Pivotal to Beamish's athletics future is maintaining a healthy constitution.
Enter Tony Snell, of PlusRehab, who monitors his biomechanics.
"I do my stretches and stuff with him to make sure everything's working.
"I have to make sure it's all right before anything happens."