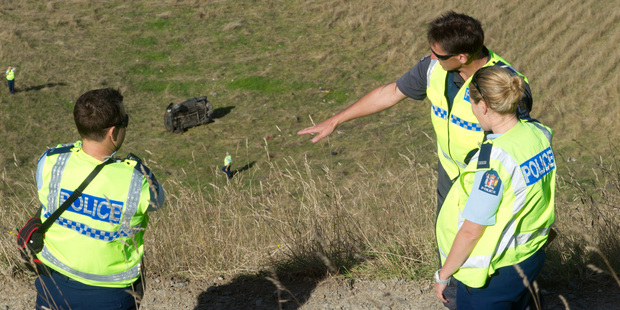 Police are investigating the death of two men whose vehicle plunged 600 metres off a rural road south of Hastings.
Police were alerted to the crash yesterday morning, after a farm worker came across the wrecked vehicle on a farm property on Burma Rd, off State Highway 2, near the small settlement of Te Hauke.
The Hastings fire service rescue team also attended.
Eastern District communications manager Kris McGehan said the car had rolled about 600m.
Police believed the car crashed on Sunday night and no other vehicles were involved.
Hastings road policing supervisor Sergeant Kevin Stewart said the Honda had gone off Burma Rd, which runs off SH2, and down a hill into the paddock before it came to rest on its side.
The 40-year-old male driver was found dead inside the vehicle. A 52-year-old male front-seat passenger had been thrown out and was found dead some metres from the car.
The farm worker assisted police in moving the bodies of the deceased with a quad bike and trailer, police said.
The men were believed to be local and "possibly Hastings-based".
Mr Stewart did not believe speed was a factor and said it was too early to know whether alcohol was involved, but that was still a consideration.
The crash was on an unsealed part of Burma Rd, where it ran alongside steep farmland without barriers.
"It's a gravel road, really dangerous. It's not used a lot and if you don't have your wits about you, chances of survival are not good at all."
The Serious Crash Unit was in the early stages of an investigation and the names of the two men were expected to be released this morning, Mr Stewart said.
As of yesterday, the number of road fatalities in New Zealand this year was 90. At the same time last year, the yearly national road toll was at 78.
Farmers along the isolated road declined to comment when approached by Hawke's Bay Today yesterday.