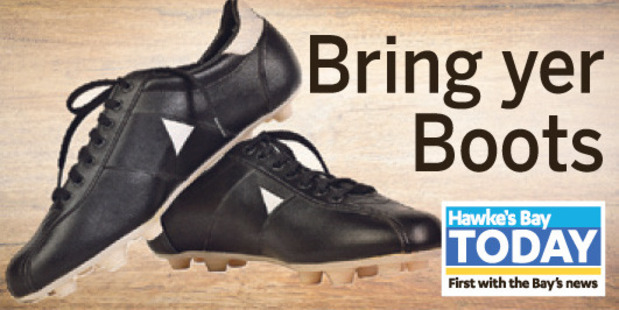 Hawke's Bay Today's Bring yer Boots campaign moves one step closer to helping youngsters get kitted out for their winter sport.
About 140 pairs of boots have so far been gifted to the cross-code initiative - launched four weeks ago with Magpies first five-eighth Ihaia West donating a pair of his playing boots - which is geared to encourage people to donate their old sports boots for children needing some sprigged footwear this winter.
Over the next few days, Hawke's Bay Today will work with a number schools in the district to distribute the boots to those in need.
There is still time to donate. Simply drop the gifted items into any of our offices in the region.
Hawke's Bay Today editor Andrew Austin said he was happy the newspaper could play a positive role in the community and he encouraged anyone with unwanted boots to donate them. "We're very pleased with the number of boots that have been donated and the newspaper will ensure they get to the people who need them," Mr Austin said.
How to donate:
Boots in good condition can be donated at these Hawke's Bay Today offices:
Hawke's Bay Today, 301 Heretaunga St East, Hastings; Hawke's Bay Today, 42 Tennyson St, Napier; Dannevirke News, 16 Gordon St, Dannevirke; Central Hawke's Bay Mail, 29 Ruataniwha St, Waipukurau.