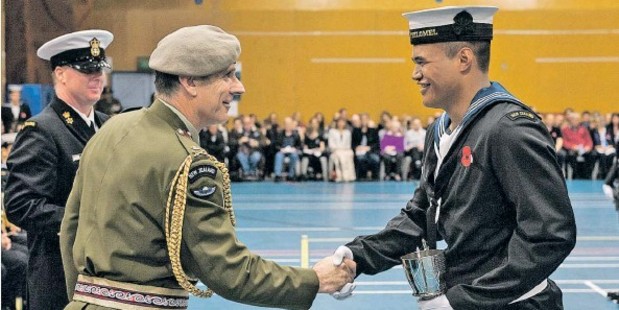 Two young Hawke's Bay men have picked up two of the main prizes at the recent graduation of 77 sailors who completed the Royal New Zealand Navy's Basic Common Training Course.
For Ashley Welsh of Hastings the graduation was doubly special - the 19-year-old picked up two awards.
As well as taking the Wayne (Buck) Shelford MBE Trophy for the Leading Physical Training Instructor, he was also awarded the Spedding Cup and Tankard for gaining the highest mark in parade training.
His parade training award gave him the honour of leading his peers as parade commander at the graduation gathering.
Twenty-two-year-old Damien Gillet-Jackson from Napier was presented the Spencer Tewsley Cup and Tankard, which is awarded to the best all-round Basic Common Trainee.
Both men had been part of the 13-week naval training course which is an introductory course for new recruits and both are setting out on careers as marine technicians.
The course involved intense levels of physical training, precision marching, parade training and an academic programme covering naval history, and discipline.
Ordinary Marine Technician (OMT) Gillet-Jackson is a Napier Boys' High School old boy, who joined the Navy to carry on a family tradition and create a stable future for his partner and himself.
"I joined because I wanted to serve my country," he said.
His family arrived here from South Africa more than a century ago - "and every generation since has had someone serve".
Despite having only been in uniform for 13 weeks, he said he was convinced he had made the right decision.
"I've made friends, got physically fit, got a uniform, enjoy great food and now I have the ability to travel the world for work ... what more could anyone ask for?" he said.
OMT Welsh went to St John's College in Hastings and said he wanted to do something with his life that would make his family proud.
"Before joining the navy - I had never even left the North Island," he said. "But after just three weeks in the navy we were flown down to Christchurch on an air force plane and sailed back to Auckland on HMNZS Canterbury."