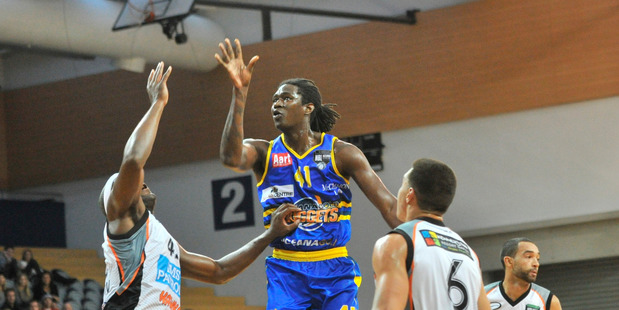 NO ONE said it was going to be easy. For the record, it certainly wasn't last year and last night was spookily no different.
Just ask IMS Payroll Hawks coach Tab Baldwin after his men went down 97-91 to the OceanaGold Nuggets in the first match of their Deep South double-header last night in Dunedin.
Just as the Hawks lost 90-85 at the Edgar Centre last year, yesterday the Hawks had to bow again to the hosts in overtime after the teams were locked 80-80 in regulation time in the Bartercard National Basketball League (NBL) match.
Matching the visitors in the defensive department, the only difference from last year was that Otago were table toppers but last night they were the third-placed unit going in as slight underdogs to the second-placed Hawks because of their poor three-point average.
In Napier last season, the then Alf Arlidge-coached Nuggets had broken a decade-long drought to beat the Hawks 81-74 at the Pettigrew-Green Arena.
Battered and bruised last night, the Paora Winitana-captained Hawks will have to lift themselves for another epic battle today in a 7pm tip off against the Zerofees Southland Sharks in Invercargill.
Not finishing on the right side of the ledger will mean the Hawke's Bay franchise will have returned from the South without a point for two consecutive seasons.
Baldwin didn't know if Sharks coach and former Tall Blacks protege Paul Henare was in the crowd last night but history suggests he seldom misses a beat in the double-headers.
The multiple NBL title-winning coach said it was akin to their loss to the Wellington Saints on the road in their opening match.
"But it was a pretty courageous performance from the boys," said Baldwin, emphasising Hawks US import forward Kareem Johnson withdrew in the final quarter with a groin injury.
In 26:29 minutes Johnson collected seven rebounds and scored four points.
"We were undersized at that point. We had young big men [Matt Wilson and Shaquille Hohipa-Wilson] but I wasn't going to put them under too much pressure," Baldwin said.
He lauded the hosts for passages of top play that wore down the Hawks.
"Certain teams take options away from the opposition so Kareem had it tough at times."
He singled out bench point guard Marco Alexander (20 points) and forward Darryl Jones, coming off a calf strain, for absorbing that pressure.
Baldwin felt had the Hawks nailed two chances from the charity line (ex-Nugget Jones missed the first but scored the second to take it into overtime) "it probably would have won the game for us".
"You can look at yourself all you want ..."
He said the Hawks led for 31 minutes of the game but "it was never a big lead and we certainly didn't get away from them".
Baldwin found it "interesting" that Otago beat them 24-12 in the assists stakes.
The hosts also won the audition for the lead role for Oliver Twist, coming away with 15-7 steals.
The Hawks coughed up 15 turnovers to 11 although the sides scored 12 points each from them.
Otherwise both sides were pretty even in the game of statistics.
"They [Nuggets] were better at playing stronger basketball and finding other options for a lot of primary players.
"We were stubborn and often gave the ball to Everard [Bartlett] too much ... so in summing up it was a heck of a ball game and it was pretty even," Baldwin said.
Mindful that the Hawks got a drubbing against the Sharks after the OT loss last season, he said Johnson was their biggest worry and a decision on his fitness would be pending almost close to tip-off time in Invercargill.
Nuggets point guard Mark Dickel, who also is on his debut season at the helm as coach, said the Nuggets were "very, very lucky" to clinch victory.
"If the flow of the game had gone the other way I wouldn't have have felt hard done by because the Hawks played better basketball but we won by the nature of playing at home so we got lucky there, mate," he said, adding his former Tall Black coach had done a great job to prepare his side for the double-header.
The Otago playmaker, returning from an injury after missing the previous round, revealed they were out to negate not only Johnson but also the other American import, centre Dustin Johnson, who claimed another double-double on the trot - 18 points and 10 rebounds.
However, knowing Scott's competitive nature he would cash in his double-doubles every day in return for Hawks victories in the hunt for the Bay franchise's second NBL title.
The Hawks won their only NBL title in 2006 under former coach Shawn Dennis, who now plies his trade in his birth country of Australia in the ANBL.
Dickel said while they kept a leash on Johnson it was great to see Alexander, a point-guard apprentice, coming off the bench to find traction.
The Nuggets were always comfortable with their ability to strike offensively but defensively they were worried about how to contain the Hawks.
"It was definitely more about guarding them tonight," he said of the NBL's two top defensive sides so far this season.
Dickel said if the Hawks played today in similar fashion against the Sharks, they would cause the hosts some problems.
At a personal level, the 37-year-old said it was nostalgic to be playing against a Baldwin-coached Hawks.
"I've picked Tab's brains for years so, if it makes sense at all, it was like he was still my coach tonight although he was coaching the Hawks.
"Tab's like the other part of me because we were always one, on the same page, when we were in the Tall Blacks so I have so much respect for him."
Dickel expressed similar sentiments about Winitana who managed only seven points last night.
"Paora's an ageing dinosaur like me. We were Tall Blacks together once but although we are scattered around the country we still love each other."
Dickel claimed a double-double 11 points and 12 assists.
US import Warren Carter emulated him with 21 points, 12 rebounds 4 steals and so did import guard Troy Payne 16/12/5 although veteran forward Brendon Polybank got a game-high 25 points.