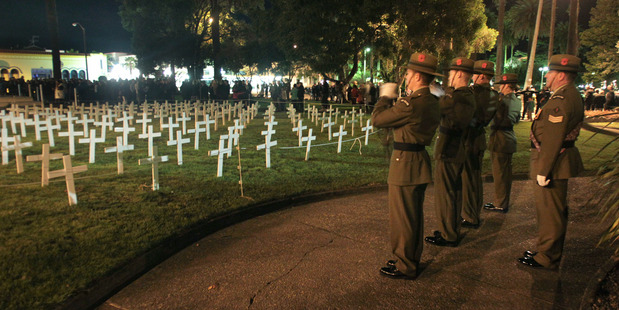 Thousands gathered in centres around the Bay to pay their respects to the ANZACs this morning.
Dawn parades were held before sunrise in Napier, Hastings and Wairoa, followed by memorial services.
In Napier there was a memorial service at 6am in the Memorial Square, followed by a civic parade and ceremony. Napier RSA president John Purcell said there were four to five thousand people at the services. "The crowd was excellent. We had to get the crowd to move out of the way so we could get through," Mr Purcell said.
Australian High Commission 3rd secretary Nick Williams was representing Australia at the Napier service. "It was fantastic. Really well done, and I really enjoyed being there on behalf of Australia," Mr Williams said.
In Hastings a dawn parade outside the War Memorial on Karamu Rd at 5.15am was followed by a service at the cenotaph in the Civic Square. Hastings RSA president Trevor Hardie said the turnout was "beyond par of last year". "It was a very good turnout. There were between three and four thousand. I think because it's the 99th anniversary, more people are taking notice and getting more involved," Mr Hardie said.
Hastings Mayor Lawrence Yule said the crowd at the Hastings service was bigger than last years'. "In the last five years there has been a lot more young people involved," Mr Yule said. "There was representation from all the schools. It was moving to see."
Dawn services were also held in Otane, Waipukurau and Dannevirke.