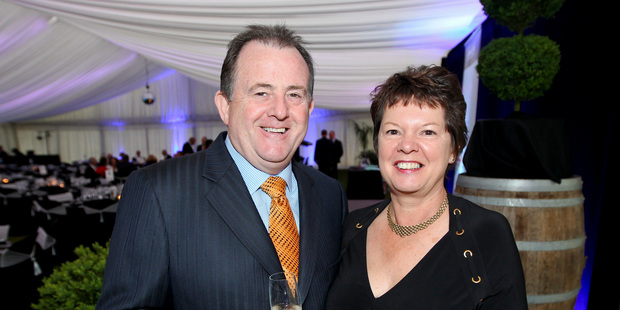 The already successful "Bring yer Boots" campaign to shoe-up needy budding sports stars became even more spectacular yesterday with the donation of a dozen new pairs from the Hawke's Bay-based owner of a national footwear chain.
The boots were delivered to Hawke's Bay Today by Ed Connolly, who with wife Julie owns the New Zealand arm of worldwide franchise operation The Athlete's Foot.
The couple increased their enterprise from eight stores to 10 after buying the business from Australian owners about five years ago.
There is no branch in Hawke's Bay, and none is planned, but the couple, originally from England, moved to the region last year to develop accommodation business Tukituki Cottages, which opened recently.
The idea to donate the old season's boots to a good cause instead of knocking them down at reduced prices came after Mr Connolly read of the Hawke's Bay Today campaign.
The shops agreed, leaving Mr Connolly to co-ordinate the booty for his surprise visit to the newspaper's office in Hastings - 12 boxes, mainly Adidas and Nike.
By late yesterday, about 140 pairs of otherwise unwanted boots, mainly second-hand, had been donated since the project kicked off three weeks ago.
Editor Andrew Austin said: "It's exceeding expectations, but we're loving it."
Not among the boots, however, was the pair with which Mr Connolly once scored three goals at Wembley Stadium, or was it five?
"I played a lot of football," he says, but the Wembley moment was not as spectacular as it might seem.
"I only played at amateur level," he said, and the goals came during a corporate five-a-side game when he was in the grocery business.
"That was about 25 years ago," he said.
"At least 25 years ago."
As for the boots?
"I think they went in the bin," he said.
The Athlete's Foot is a chain which started in the US almost 20 years ago and deals in mainly specially fitted footwear.
How to donate
Boots in good condition can be donated at these Hawke's Bay Today offices: Hawke's Bay Today, 301 Heretaunga St East, Hastings; Hawke's Bay Today, 42 Tennyson St, Napier; Dannevirke News, 16 Gordon St, Dannevirke; Central Hawke's Bay Mail, 29 Ruataniwha St, Waipukurau