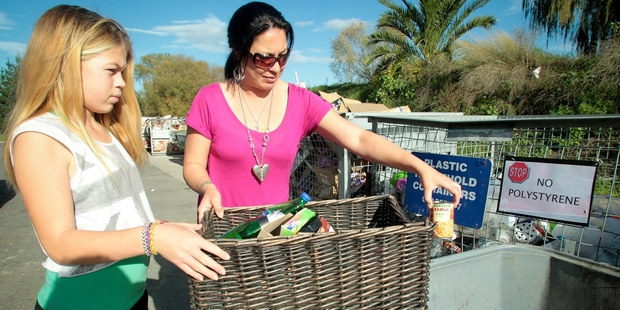 Napier City Council is set to scrap plastic recycling at its main refuge transfer station because the scheme is being abused by freeloading rubbish dumpers.
Almost half the material left in the plastics collection area of Taradale's Redclyffe Transfer Station is unsuitable for recycling and is being sent to landfill.
To avoid the problem leading to a $40,000-a-year budget blowout, the council is proposing scrapping the service at Redclyffe, although residents will still be able to recycle plastic through the city's fortnightly curbside collection.
A staff report prepared for this week's meeting of the council's city services committee says volumes of "contamination" (by non-recyclable material) in plastics left at Redclyffe had recently jumped considerably.
From December to February the council employed a "recycling educator" at Redclyffe and the combined cost of policing recyclers and processing the plastic was $4000 a month.
"Servicing plastic recycling at the Redclyffe Transfer Station has now become very costly and exceeds budget by approximately $40,000 per year," the report said.
The station received about 45 cubic metres of recycled plastic a week, of which about 20 cubic metres was not suitable for recycling and needed to be dumped in landfill.
The council recycled about 7 tonnes of plastic a month from the station, at a cost of about $571 per tonne which "is not good value for money," the report said.
Material being left in the plastic collection area included plastic furniture, industrial drums, polystyrene, toys and parts of car interiors.
"Visitors are taking advantage of this service to dispose of industrial and non-recyclable items which are not accepted in the kerbside collection," the report said.
The council's annual budget for plastic recycling is about $5000 per year. Its options were to continue with the current service, which would cost about $40,000, spend up to $70,000 by re-starting the "educator" role, or stop recycling at the station and look at other options.
"Considering the cost of plastic recycling equates to $48,000 per year, that the option to employ a recycling educator to decrease contamination will cost even more and the broad level of public support for recycling, it seems that the most appropriate option is to terminate accepting plastics for recycling at the Redclyffe Transfer Station, until such time as an alternative that offers acceptable value for money has been developed," the report said.
News the council has a problem with people inappropriately disposing of rubbish through its recycling system follows a spate of issues with illegal rubbish dumping across Hawke's Bay recently.