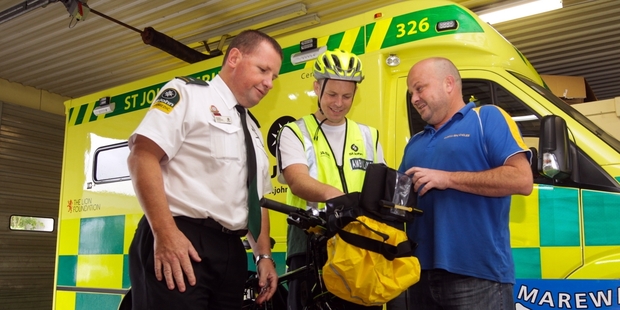 When you next see St John staff at a major event they may be behind the handlebars of a mountain bike rather than the wheel of an ambulance.
St John planned to introduce a new breed of paramedic at crowded events: the "pedalmedic".
The role would see St John staff weaving through large crowds on a custom mountain bike, for increased mobility and a faster response time.
The bicycle, complete with warning lights and miniature siren, arrived at the Napier station yesterday and was the first of its kind in the central region. St John planned to use the bike at events such as IronMaori, Art Deco Weekend and the Big Easy.
Provided by Marewa Epic Cycles, the bicycle was equipped with a 10kg advanced life support kit, including a defibrillator, which would enable the pedalmedic to provide first response before the arrival of an ambulance.
St John's Heretaunga territory manager Brendon Hutchinson said the bike would improve paramedic efficiency at Hawke's Bay events.
"The Sound Shell on New Years' Eve has 10,000 people; an ambulance isn't going to get through a crowd of that size. So the bike means increased mobility and faster response," he said.
St John intensive care paramedic Steve Harkness had been selected as Hawke's Bay's first pedalmedic and would draw on ample cycling experience.
Mr Harkness had done the Lake Taupo Cycle Challenge three times. The bicycle would be used by up to six staff members in future.
Marewa Epic Cycles manager Sean O'Regan said he was happy to provide the $1000, "solid mountain bike" to St John. "It's a community service, and it's going to be present at community events," he said.