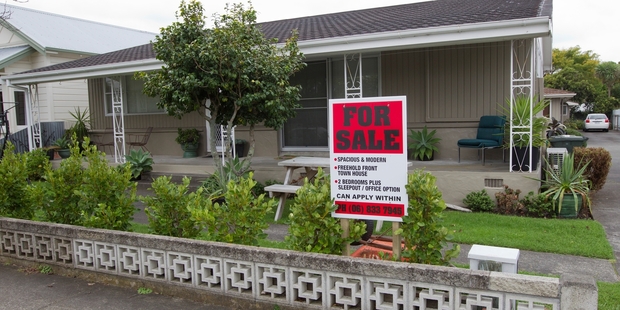 It is getting harder for people, particularly first-time home buyers, to purchase houses at the lower end of Hawke's Bay's market thanks to tough Reserve Bank policies designed to curb rampant Auckland property prices.
The latest statistics from the Real Estate Institute of New Zealand (Reinz) show that while Hawke's Bay's median price rose 1.8 per cent (from $282,000 to $287,000) in March, the number of houses sold fell 5.7 per cent, from 211 to 199, compared with the same period last year.
The Reserve Bank restricted high loan-to-value ratio (LVR) mortgages in October, meaning banks can now make fewer loans to customers with less than a 20 per cent mortgage deposit.
The change aimed to take some of the heat out of a rapidly rising Auckland property market but it has been criticised for unfairly affecting first-home buyers.
CoreLogic measured first-home buyers in the three months before the restrictions and in December/January.
The number of Napier first-home buyers fell from 21.2 per cent of home buyers to 15.8 per cent - a drop of 5.4 per cent. Hastings first-home buyers dropped 3.6 per cent.
The chairman of the Hawke's Bay branch of the Property Institute of New Zealand, Trevor Kitchin, said the price rise was because the lower end of the market had faded.
"We have seen first home buyers struggle due to the LVR and therefore there is a trend for less sales at the lower end hence the median rises," he said.
There was also more activity at the upper end of the market compared with last year.
"Within Hawke's Bay there have been a small number of strong sales of high-end property over the last 6 months - some of the stronger buyers are now seemingly more prepared to pay good money for high quality or special properties.
"That is probably a sign of an improving national economy and buyers involved in this are not so conservative as has been the case since the GFC began.
Stuart Nash, Labour's candidate for the Napier Parliamentary seat, criticised the LVRs, saying regions should not have to pay the price for Auckland house-price inflation.
"The Government has failed to gain control of Auckland's housing crisis, and now young hard working Napier families are being shut out of the Kiwi dream of home ownership as a result," he said.
"Ninety five per cent of house price inflation is happening in Auckland and Canterbury so why should hard working young Napier families pay the price for this? It's not fair."
National's Napier candidate Wayne Walford said the alternative to LVR restrictions was an earlier lift in interest rates, which would have affected everybody including first-home buyers.
"Businesses would have had to pay higher interest rates on overdrafts and it would slow the economy," he said.
"If we hadn't had some sort of control in there then everybody would have been paying a lot more, a lot earlier."
Leaders Real Estate managing director Elanor MacDonald said sales had been "muted" across all price categories in March because those with mid-range priced properties could not afford a deposit for a more expensive home. In Hawke's Bay, Ms MacDonald said the new restrictions meant home owners who wanted to trade in their mid-ranged priced property for a larger home could not afford a 20 per cent deposit to make the move.
This restricted the number of mid-ranged price properties on the market, so sellers with high value properties looking to downsize could not find a new home.
"We have the lowest numbers for sale we've had for a very long time."
When compared to sale figures for a similar period in 2011, March saw about 40 per cent fewer properties available on the market, Ms MacDonald said.
Westpac chief economist Dominick Stephens said that if LVR restrictions eased, the local housing market could be in for "a dead cat bounce".
"Perhaps the banks whacked too much of a premium on low deposit mortgages and they are now going to recalibrate," he said.
"They put the price of them up and they are now down to just 5 per cent.
"They will ease up on that, which will allow the bottom low-income housing part of the market to increase. They will recalibrate the premium on the low deposits so it will get to the mark."
The Reserve Bank may also raise the cap on the number of LVR mortgages banks are allowed to have from the current 10 per cent towards 20 per cent, he said.
Hawke's Bay lacked Auckland's population pressure, which had outpaced new homes, for the housing market to surge whereas building activity in Auckland and post-earthquake Christchurch would "really ramp up" by about 50 per cent over the next few years.
"That can put all sorts of pressure on the cost of building for everybody."
"I don't see a particular reason for Napier to ramp up its rate of residential building - it could even ramp down if builders head to Christchurch or Auckland and you're left with fewer builders."
The national median price rose 10 per cent in March to a record high of $440,000, while the number of houses sold fell to 7315 from 8128.
The Reinz figures follow the release of a report by valuer Quotable Value last week showing home loan approvals and sale numbers were down nationwide.
A report released on Friday by Harcourts showed the average March sale price for Auckland and Northland properties jumped to a record high of $697,454 - potentially squeezing first home buyers out of the market.
A Minister of Finance spokesperson said the Reserve Bank was independent and it would be wrong for politicians "to meddle" with its LVR policy.
Local councils "hold most of the levers" because the main issue with house prices was a shortage of supply.