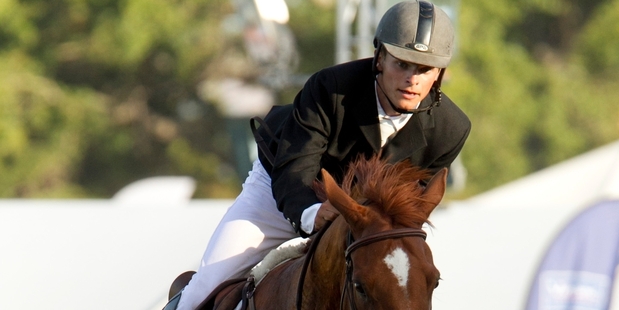 THE YARDSTICK of accomplishment only becomes credible when sportspeople divorce themselves from their comfort zones.
Sure, dipping one's toe into the murky pool of competitions can be a chilling reminder of what depths one has to go but at least you won't die wondering in the twilight of one's career.
Hawke's Bay equestrian Luke Dee, having dipped his toe in the United States last year, is embarking on another journey this week that will put quite a few things in perspective for him.
This time the 20-year-old showjumper from Ocean Beach was to jet off from Auckland today, comfortable in the knowledge his trusty mount, Ombudsman, will be part of his campaign.
Based again with renowned equitation trainer Missy Clarke in the state of Vermont, adjacent to New York, Dee will put his feet up for a few days before catching another flight to Beijing to compete in the China Tour.
"It's an invitation event with a couple of World Cup shows on borrowed horses," he explains, adding he will become the first New Zealander to compete at the event.
Furthermore, the hopefuls will include some of the world's top riders - Englishmen Scott Brash (No1 seed) and Ben Maher (No2) and No3 Ludger Beerbaum, of Germany.
"It's a great opportunity to compete against the best and be seen on the world stage."
It doesn't daunt Dee, who has a 400-something world ranking, to rub shoulders with the elite.
That borrowed horses will be pulled out of a hat to match riders will be a leveller of sorts.
"Obviously they'll be better riders and they'll be hard to beat.
"We don't have as much exposure here as in the US and Europe so it's good to go there [Beijing] to be noticed."
The joint runner-up in the Olympic Cup of the NRM Horse of the Year Show in Hastings last month with world champion showjumper Philippe Le Jeune and Samantha McIntosh, Dee won the Gold Cup at the event.
He becomes the beneficiary of the trip to the Beijing tour, to be held over two weekends, because Olympic Cup winner Katie McVean cannot compete because she is expecting her first child.
"I've never been to Beijing before so I'm looking forward to it.
"China is a place I've always wanted to go to, so it's exciting and I'll certainly be improving my experience."
Dee and his 13-year-old chestnut thoroughbred gelding will measure up at US shows in July before making a beeline for Spruce Meadows.
"It's one of the biggest shows in the world and it goes for six weeks so the top riders will be there."
The combination will embrace all the challenges the US can offer until August.
That, Dee hopes, will provide a platform of continuity for New Zealand selectors to include him in their equation for the World Equestrian Games team of four.
Clarke has helped him refine certain aspects of his trade.
"Missy's a good friend and a good trainer who has helped produce good riders and horses.
"It's great to get that help so I'm looking forward to getting back there," he says, adding Clarke has not only boosted his riding posture but also picked up minute details that have had an incremental effect on his mount's performance.
He says he was fortunate to build a rapport with former US Olympic team coach George Morris last year who put him in touch with Clarke.
Having Ombudsman not only boosts his chance of making the cut but also provides the opportunity to snare some prize money to pay for his keep.
His calculations for a six-month budget are in the vicinity of $60,000 so the pressure of winning will be in the back of his mind.
Ombudsman owners Merran Hain, of Gisborne, Kenny Duncan, of Hunterville, Mike and Tracey Collins, of Auckland, uncle and aunty Ian and Marianne Dee, of Cromwell, and parents Richard and Jo Dee, of the Bay, have chipped in but Luke Dee emphasises they are always looking for financial backers.
"They [owners] always wanted a good horse but it's also exciting for them to have a horse going overseas and probably become quite well known so it's good for everyone."
Dee reckons Ombudsman can scale fences with aplomb and has scope to improve.
"He's an honest horse and has a lot of fun so I've enjoyed every moment with him."
Success can mean the mount will become irreplaceable but selling him in the US is definitely on the card to help recoup costs or buy another horse by early September.
And what of Dee's endeavours?
"There's a good chance I'll be back here unless a good opportunity comes up," the Bay rider says.