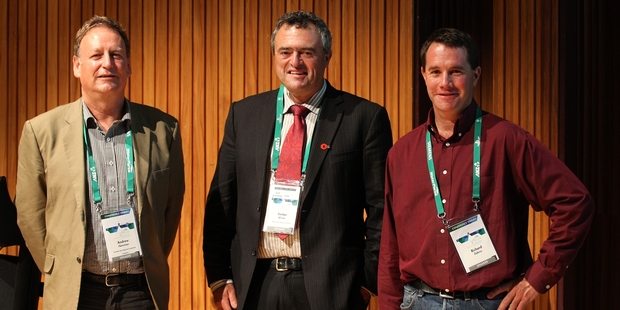 Water from the proposed Ruataniwha irrigation project appears expensive but will deliver a necessary economic boost for Central Hawke's Bay, says one of the farmers preparing to sign up for the scheme.
The viability of the $270 million Ruataniwha scheme is a major talking point at an Irrigation New Zealand conference in Napier this week.
Speakers at the conference yesterday included Takapau farmer Richard Dakins, whose 350ha property includes 150ha of irrigated land.
"The biggest advantage we've gained from irrigation is it's given us the ability to be flexible and knowing you're going to get the yields you're predicting," he said.
The Hawke's Bay Regional Council, through its investment arm, Hawke's Bay Regional Investment Company (HBRIC), is promoting the Ruataniwha scheme as providing an economic boost for drought-prone Central Hawke's Bay.
Mr Dakins said HBRIC's proposed water price of 26c per cubic metre of water (including a 3c charge to pressurise the supply) had been labelled too expensive by some. However, technology now available to irrigators meant they could use water efficiently, lowering the per-hectare cost and providing "a bigger pay-back," he said.
The district needed an economic boost, as was evident from signs that Waipukurau was struggling.
Mr Dakins said he would "absolutely" be looking to sign up to take water from the scheme.
"We're recent living proof that with irrigation you can take a fair amount of risk and stress out of the game that is farming," he said.
"Every scheme seems to be expensive at conception but with the advantage of hindsight is more than affordable."
Joining Mr Dakins at a conference session entitled "Irrigation into action" was HBRIC chief executive Andrew Newman, who said the proposed scheme faced a major milestone next week when a board of inquiry was due to release a draft decision on resource consents for the project.
"Assuming that goes our way, believe you me, there will be a huge amount of momentum out of that decision because that will really start to deal to a lot of the politics," Mr Newman said.
A recent decision by Trustpower to withdraw as a potential investor in the scheme was based on a realisation it could not achieve its desired internal rate of return of between 10 and 13 per cent," he said.
While HBRIC was confident water users would eventually take all the available water from the scheme, Trustpower had not been prepared to take a risk on how much demand for water there would be.
Regional Council chairman Fenton Wilson said the Ruataniwha scheme was a solution that had been advanced to improve the environment of the river catchment and boost production and productivity in Central Hawke's Bay by improving water supply.