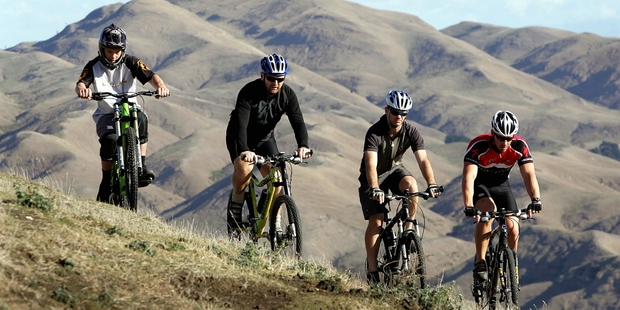 Mountain bikers will be able to intersect existing walking tracks on Te Mata Peak as an "interim" measure, while new routes are mapped out for them.
A committee, including members from Hawke's Bay Mountain Biking Club, Havelock North's Bennelong Bike Club and Te Mata Park Trust, met on Sunday to clear up concerns and discuss future plans for the bike trails.
"There is an issue we needed to address, some points of the [mountain bike] tracks do need to cross over some of the Five Great Walks," Te Mata Park Trust chairman Bruno Chambers said.
"We will get new signage notifying where those areas are - it's very important they are ridden with courtesy - we are committed to ensuring the safety of everyone using the tracks."
Intersections would not fall in areas where the gradient was unusually steep or where bikers could not be seen by those on foot.
"[Sunday] was a good time to get some feedback on what they do want - I am confident we have chosen tracks where they are very visible and on an easy to moderate gradient.
"There's no way the trust would sanction those on a steep gradient where people will be walking, we are trying to keep everyone apart and safe."
The Walking Track map won't be altered, but shared areas will be clearly marked on the Biking Track Map, in due course.
Mountain biking groups would have significant opportunity to contribute to the design of a proposed network of tracks.
"The park is a place for all to enjoy and the trust works hard to balance the interests of all users and work within its framework, which is a complex juggle", Mr Chambers said.
"We can't do everything at once, in an ideal world we would have launched the bike tracks at the same time, but constraints meant that could not happen."
All members of the trust were volunteers and had other commitments, they also had the preservation of natural landscape to consider and were looking at ways to minimise visual impact of additional trails.
Hawke's Bay Mountain Bike Club chairman Scott Richardson said their main concern was ensuring the sport had a chance to grow in Hawke's Bay.
"It's about sharing and caring nicely, from a club perspective we want to see people have the opportunity and option to get into mountain biking."
With bikers making up one third of Te Mata Peak users, the region had the potential to be a lively hub for enthusiasts from throughout the country.
Mr Richardson agreed plans to expand the number of tracks was positive, "as long as there is plenty of consultation".