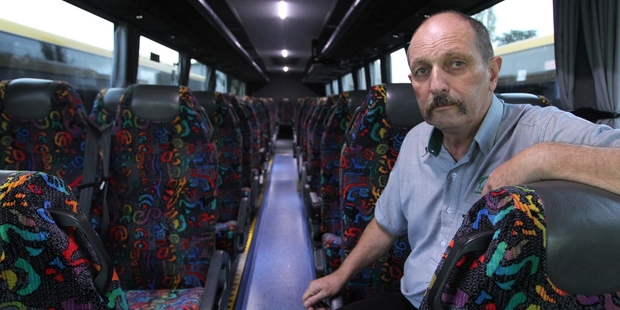 A major Hawke's Bay tourism business has voiced concerns about increased berthing charges at Napier Port which it fears is discouraging cruise liners from visiting the region.
Pete Patterson, general manager of bus company Nimon & Sons, says the port's fees and conditions are undermining a multi-million dollar investment his company and others have made to cater to the cruise industry.
The criticism follows recent concerns from fruit and produce exporters who have complained about delays in getting their products through the port.
Mr Patterson says he has been "seriously concerned" to see cruise ship bookings into Napier Port for the 2015-16 season appear and then disappear from the port's schedule, with one international cruise apparently shifting its itinerary from Napier to Gisborne's Eastland Port.
He is worried the move is in relation to an increase in tariffs at Napier Port which has seen the cost of berthing a full-size cruise liner increase from $42,000 to more than $55,000.
Mr Patterson said port records showed last month one liner, Princess Cruises' Sun Princess was booked for eight visits to Napier between November 2014 and February 2016.
But late last month an update showed only two bookings for the ship, while a shipping schedule for Eastland Port showed a sister ship, Golden Princess, booked to anchor off Gisborne eight times during the same period.
He was concerned Princess Cruises may have shunned Napier because of the increased berthing costs and a condition that cruise lines must pay half the tariff for bookings cancelled within 36 hours of the scheduled time of arrival, a condition only imposed at Napier.
"We will not be surprised to see the two remaining Sun Princess bookings removed from the Port of Napier schedule if the port is failing to meet cruise ship needs," Mr Patterson said.
"We have made inquiries as to why we have lost so much cruise ship work in the 2015-16 season, and have not received a satisfactory explanation.
"It cannot be due to clashes of dates with other cruise ships because the Port of Napier and our company have coped just fine over the past 10 years with more than one cruise ship arriving at the same time."
Mr Patterson said the lost visits from Golden Princess could mean up to 25,000 fewer tourists visiting Hawke's Bay during the course of the cruise season.
Carnival Australia spokesman David Jones which manages the brand of Princess Cruises, was unable to comment at the time Hawke's Bay Today went to press.
His company had spent heavily in high-quality buses to cater for the tourist market on the basis that the region was investing to develop the cruise market, he said.
A single coach, fitted out to cater for cruise tourists could cost Nimon $750,000.
"We need the cruise ship business, as do many other Napier tourism operators, venues, businesses, shops and attractions."
Neither the port's chief executive, Garth Cowie, nor its chief operating officer, Chris Bain, responded to requests for comment yesterday.
In the past few weeks fruit and produce exporters have complained about congestion at the port leading to delays and concerns from exporters that they may have to use other ports to get their product to market.
In response to those concerns, Mr Bain said last week the port had been hit by an unexpectedly heavy demand which it was working to resolve.
It was adding capacity so it would not have the same problem during the next peak season.