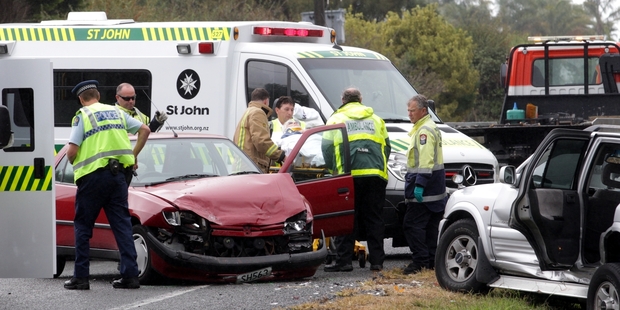 Driving from "A to B should not be via the A and E", says a local policeman after a series of crashes left emergency services scrambling during a drizzly and murky weekend.
The spate of serious incidents, four in total, began on Saturday when five people were injured following a crash on the Hawke's Bay Expressway.
St John Heretaunga territory manager Brendon Hutchinson said the crash on the Tutaekuri River bridge, about 1.15pm, involved a mother and her six children and a single female driver.
He said the two drivers were taken to hospital with moderate to serious injuries, while three of the children were also taken to hospital with minor injuries.
Keirran Stafford was the single female driver in the crash and said traffic had come to a standstill on the bridge because of a slow tractor further ahead.
"I was behind a steel frame trailer when I saw this car flying towards me from behind," she said.
"I just remember thinking 'this is going to hurt'."
She said the crash occurred after there had been a sudden downpour in the area.
Yesterday emergency services were pressed into action yet again after a "people mover" lost control on the Taradale Rd and Hawke's Bay Expressway roundabout before rolling about 9am.
Police said the van was the only vehicle in the crash.
"The two occupants were both taken to hospital, one with moderate injuries," Eastern District Acting Senior Sergeant Clint Adamson said.
Mr Hutchinson said a 22-year-old female received moderate neck and shoulder injuries, while a 13-year-old female received minor injuries.
The mayhem continued later in the morning when two cars collided near the Awatoto Rd and Meeanee Rd intersection in wet conditions.
Senior Constable Warren Clayton said a four-wheel-drive vehicle lost control after turning left into Awatoto Rd after travelling East on Meeanee Rd about 11am.
"She has lost control and skidded into the path of an oncoming vehicle travelling south on Meeanee Rd before the two vehicles collided."
He said the female driver of the four-wheel-drive also had three young passengers in the vehicle.
"An elderly couple were in the other car and they have been taken to hospital for precautionary measures."
Mr Hutchinson said St John paramedics treated four patients at the scene of the crash and transported three people to hospital.
He said the elderly couple were a 93-year-old male and 91-year-old female, both received moderate chest injuries, while a 13-year-old female was also taken to hospital with minor injuries.
Moments later another crash on Omahu Rd left a car wrecked after a collision with a truck and trailer unit. There were no major injuries in the incident.
Road policing Sergeant Kevin Stewart said it was a reminder when the roads are wet motorists should drive to the conditions.
He added all the road incidents Hawke's Bay Police attended over the weekend were preventable. "While emergency services are attending to a crash, there are still people out there that add to the danger by not slowing down when approaching the scene.
"I have had to warn a couple of motorists for driving too fast into and through crash scenes because these drivers were too busy 'rubber-necking' to pay attention to their speed."