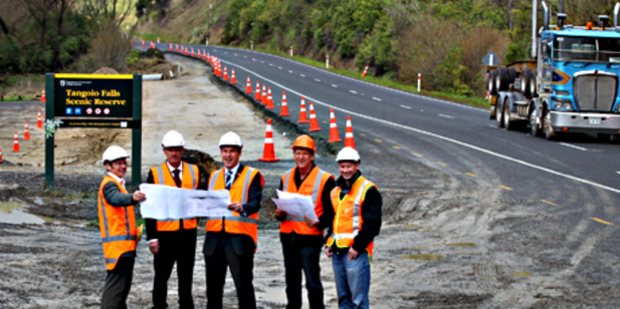 Roading contractors yesterday wrapped up a seven-month project to create nine new passing areas on SH2 between Napier and Gisborne.
The $4 million project has resulted in an additional 2km of passing opportunities, adding to the 22 passing spots which were already in place.
Highways manager Chuck Dowdell said the work had been made possible by a special Crown contribution which covered the cost and enabled it to get under way last September.
Safety had been the driving issue behind the work, he said, as motorists stuck behind large, slow-moving vehicles could become frustrated, which could lead to unsafe and potentially fatal passing manoeuvres.
The closure of the Napier-to-Gisborne rail link had resulted in more heavy trucks using SH2.
"The public are always telling us they want more passing opportunities, and we're delighted that we can give them more places to safely overtake slow moving vehicles," Mr Dowdell said.
"This project will help reduce driver frustration and keep drivers and their passengers safe as they travel around the region".
The New Zealand Transport Agency will also increase monitoring of the impact of heavy traffic on the stretch.
"The National Land Transport Programme has allocated $9million to $10 million over a three-year period to improve the condition of the highway."
Mr Dowdell said that with Easter and the school holidays less than a fortnight away, it was a good time for drivers to "brush up on the rules" when using one of the passing opportunities to overtake.
Keep left. If your speed is slowing down the flow of traffic, get as far to the left as you can and let the traffic behind you pass. Letting faster vehicles pass you and using the slow-vehicle lanes is the law.
Don't speed up when you reach a passing lane/opportunity. Be alert to the vehicles behind and let them pass when you reach the passing lane.
When the passing lane or opportunity ends, merge like a zip. Whichever lane you're in, show you want to merge by putting on your indicator for at least three seconds and adjust your speed and following distance.