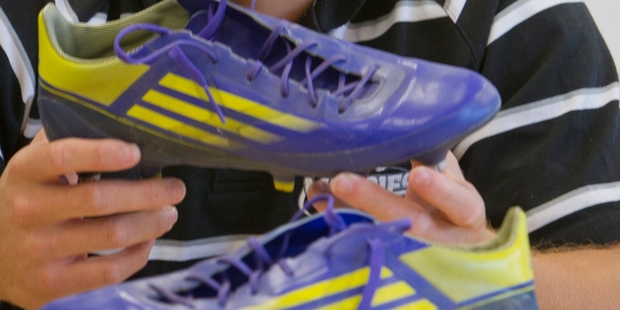 Hawke's Bay Today is launching its Bring yer Boots campaign - encouraging people to donate their old sports boots for children needing some sprigs this winter.
The cross-code initiative began yesterday with Magpies first five-eighth Ihaia West, who donated a pair of his playing boots.
Mr West said he began playing rugby aged 5 and received his first pair of boots when he was 9.
"We all played in bare feet until then - I think my first boots were a pair of Mizuno."
The size-10 ITM Cup star said he went through about two or three pairs a season.
"It's pretty awesome to be able to give some kids their first pair of boots and we want as many people playing rugby as possible."
The 22-year-old said fellow Magpie Gillies Kaka had more boots than any other player in the squad.
"Gillies has about 100 pairs. He's got a problem, I think."
He said the cliche of backs getting excited about new boots and forwards willing to play in anything was true.
"The backs tend to go for the more flashy ones."
Sport Hawke's Bay commercial manager Kevin Murphy said he supported the recycling push because he often saw talented young sportspeople struggling to keep up with the financial demands of buying new boots.
"Especially if everyone is wanting new boots each year to follow trends," Mr Murphy said.
"Most families I know have more than one child playing, so the youngest child may not get new boots often.
"Recycling is well worth the exercise as children's sizes change so quickly when they are growing."
He said sport had physical and mental payoffs for children. "There are also benefits like managing your time and discipline. It all contributes to children being more successful in future years."
Hawke's Bay Rugby Union commercial manager Jay Campbell said it was a "fantastic initiative".
"Anything which enables more children to get out and enjoy the various benefits playing rugby has to offer has our support."
Hawke's Bay Today editor Andrew Austin said he was pleased the newspaper could play a positive role in the community.
"We call on our readers to support this drive and donate their old sports boots to the youngsters out there who need them," he said.
The newspaper will identify sports clubs and schools for distribution at a later date.