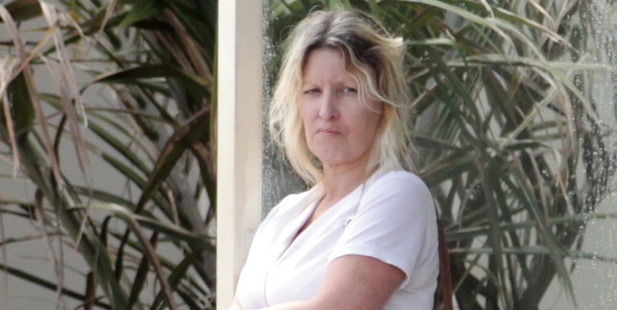 A stranger's touch would be one of the last caring acts Maureen Quinn would remember as her frail body succumbed to bronchial pneumonia.
The 82-year-old grandmother was in the sole care of her daughter Joanne Quinn, 51, who prior to being found guilty of failing to provide the necessaries of life yesterday in Napier District Court, was slapped in the face by one of her sisters while sitting in the public gallery.
Medical staff discovered the mother of eight on November 15, 2011, embedded in a couch and blanket with festering leg wounds.
Maureen died six weeks after being admitted to hospital from bronchial pneumonia.
On day two of the three day trial, Detective Toni Leppien told the court she interviewed the pensioner the day after she was admitted to hospital.
"There was one time during the interview where I held her hand and she said 'your hand is so warm. I can't remember the last time someone touched me'," Ms Leppien said.
Maureen had lived in her Marewa home for 60 years and raised eight children. She was widowed in 2006 when her war veteran husband died.
Revisiting her in hospital on November 17, Ms Leppien told the court a nurse cleaned a crease in Maureen's neck that was "green and festering".
"She [Maureen] said 'I can't believe I had eight children and I've ended up in this state'."
The court heard how when Maureen Quinn was admitted to the hospital there was a "rotting" smell coming from the leg wound.
When the sheet covering her was pulled back the [unsightly] wounds were revealed.
Crown prosecutor Steve Manning said Quinn's mother was essentially "bound" to the couch and had a severely ulcerated and swollen leg and covered in rotten skin when medical staff and paramedics found her in a "medically risky environment".
It was also revealed by Crown witness, St John ambulance officer Emma Hubbard the smell was "awful" and it appeared the rotten skin had embedded itself into the blanket and leg rest.
Ms Hubbard told the court while the paramedics attempted to transport the 82-year-old to the ambulance Quinn was obstructive and twice heard her say "shut your mouth mother" in an "unnecessary and threatening way".
During his deliberations yesterday Judge Jonathan Down said Joanne Quinn clearly owed and had a duty to override the wishes of her mother and provide nourishment, hydration and medical care.
Judge Down was struck by one moment when witness Ms Leppien gave an account of holding hands with Maureen Quinn in hospital.
He said the 82-year-old was referring to the "warmth and comfort" that must have been missing from her home environment.
"This is the sort of case that can give rise to the feelings of prejudice and sympathy," Judge Down said. "One only has to look at the photo evidence and listen to the medical witnesses.
"What I was struck by was a very broad and deep agreement by all the medical witnesses about the state and condition of [Maureen]."
He said in light of "compelling medical evidence" he reached an "inevitable conclusion".
He had no doubt Maureen's life was in imminent danger and had she not been found by doctors on November 15, 2011 her death would have come at a much earlier stage. "It was obvious to the defendant and to all, beyond any reasonable doubt, that much greater care was required."
Maureen Quinn's granddaughter told Hawke's Bay Today it was "devastating" to discover her aunt, Joanne Quinn, had neglected her nana.
Trena Quinn said whenever she asked to speak to her grandmother her aunt would refuse or say she was sleeping.
"If you banged on the door she [Joanne] would say she was calling the police.
"None of us could get in to see nana."
She said the windows to the home had been "nailed shut" by Joanne while the garden, once the pride of her nana, had become a jungle.
"If we knew what she was doing in there to nana we would have busted through that door anyway we could."
Trena Quinn first noticed the severity of her 82-year-old grandmother's condition when she visited her in hospital.
"It was shocking - I personally don't understand how a [daughter] could do that to her mother."
During Joanne Quinn's trial it was revealed she lived at the family home with her son and mother and relied on Maureen Quinn's pension for an income.
Quinn was released on bail and will be sentenced on May 16.