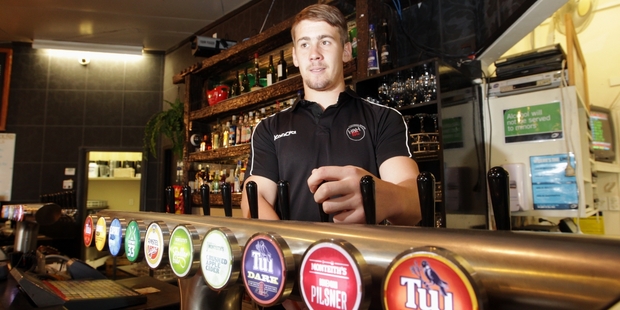 Back in 2010 Aaron McPhee received a congratulations card from his Hurricanes title-winning Hawke's Bay under-16 rugby team's coaching staff.
Then head coach Jeff Franklin ended his message to McPhee with the line "look forward to watching you play for the Magpies in 2014". Every so often Tanalised Napier Pirate Rugby and Sports flanker McPhee reads the card for inspiration.
It's obviously working. McPhee, 20, produced a player-of-the-match performance for his side in the weekend's 20-12 Nash Cup victory against Clive at Farndon Park to secure one of the five first three pointers up for grabs in the battle for the Tui-Hawke's Bay Today Club Rugby Player of the Year award.
McPhee is in his second season as a member of the Magpies wider training group and at Easter will attend the final trial for the New Zealand under-20 team which will play in the Auckland-hosted World Cup in June. It's a phenomenal rise for a player who was only playing 3rd XV rugby at Napier Boys' High School when Franklin selected him for the last Hawke's Bay under-16 side to win the Hurricanes tournament.
"I'll never forget that under-16 campaign ... it was the kickstart of my career," McPhee recalled.
Since then he has had a season with the NBHS 1st XV who finished third equal in the 2011 national secondary schools top four competition and two seasons in the Hawke's Bay under-20s team including the 2012 side which won their Hurricanes competition.
"Making the New Zealand under-20s is my big focus for this season. It's a bit touch and go as there are a few things I need to fix. I need to be more aggressive and a bit more energetic but the feedback I've been given suggests if I play my normal game to my full potential I should be alright," he said.
Should McPhee make the Baby Blacks he will use the World Cup campaign to enhance his chances of Magpies selection. If he fails to get the nod he will use the remainder of the club season to attract an ITM Cup squad tick from Magpies head coach Craig Philpott.
"It's nice to be playing club footy again after missing most of last season with a knee injury and a few other niggles," McPhee said.
He believes the Pirate side has a "decent chance" of success in both the Nash Cup and Maddison Trophy competitions this season.
"Head coach Andy Lord and his assistant Terrence Taylor have introduced some new ideas. There has been an attitude shift and Terrence has stressed the importance of bringing some pride back into the jersey."
As part of McPhee's quest to make the New Zealand under-20s he changed jobs. He was working at Progressive Meats Ltd but discovered the workload hindered his Magpies wider training group training and gym sessions and for the last five months has worked as a barman at Bar 1012 in Hastings.
"I'm not run off my feet and my boss Wayne [Crisp] works things around my rugby commitments. Lifting kegs on a regular basis certainly complements my gym work."
When McPhee isn't working or involved in rugby he is likely to be found hunting pigs. Just as he seldom misses a tackle, he seldom misses a pig when the opportunity arises.