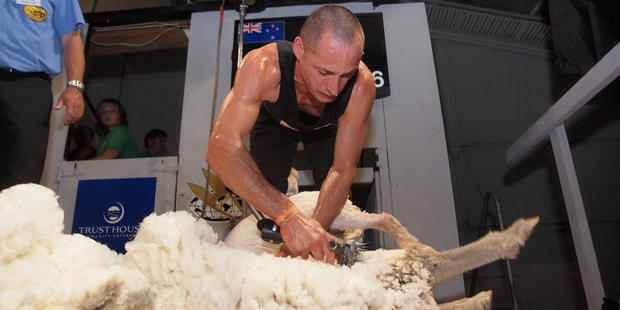 Hawke's Bay will have two Kiwi machine shearing representatives at this year's World Championships.
The two are Rowland Smith and John Kirkpatrick who staved off legendary Te Kuiti giant David Fagan's bid to have one last crack at the big one at the New Zealand sharing champs in Te Kuiti.
The 52-year-old Fagan, winner of five individual World titles, was first to finish Saturday night's 20-sheep contest, taking 15min 27.03sec, but was unable to match speed with quality and had to settle for fourth place when all points were counted. Fagan and Smith waged a classic battle for fastest time as they shore side by side on stands five and six, but with second fastest time and the best quality points, 27-year-old Smith was able to win comfortably. Having already secured his first world championships place by successfully defending the Golden Shears Open title in Masterton four weeks ago, Smith showed complete professionalism to win by more than three points as Kirkpatrick did enough to finish second and win a place at the world championships for a third time.
Taihape teacher and 2008 world woolhandling champion Sheree Alabaster won the New NZ Open woolhandling title for a seventh time, after the surprise semi-final elimination of reigning World and Golden Shears champion Joel Henare.
Up-and-coming open class woolhandler Logan Kamura, of Marton, was second, and third was Te Awamutu's Keryn Herbert, who won a world teams title with Alabaster in 2010.
In other events, Kirkpatrick won the NZ Shears Open Circuit, shearing more than five fine-wooled merinos, five crossbred ewes and five lambs.
Masterton-based Riverton shearer Casey Bailey won the senior shearing final, turning the tables on Mataura shearer Brett Roberts, who won the Golden Shears Senior title earlier in the month.